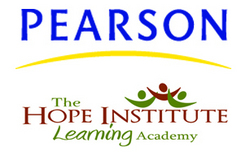 We are honored that HILA has been selected as a Pearson innovation school
Chicago, IL (PRWEB) July 16, 2009
A unique collaboration between a new Chicago elementary school and an education and technology company with strong ties to the Chicago area aims to set students on Chicago's Near West Side on the path to individual success. The Hope Institute Learning Academy (HILA) , which will open in September 2009 at 1628 West Washington, and Pearson today announced their partnership.
HILA is a Chicago Public Schools contract school operated by The Hope Institute for Children and Families. HILA will open with grades K-3, and expand to grades K-12 over the next several years. A breakaway approach to education called the Maximum Benefit© Model will allow HILA to design its programs and services and integrate Pearson's curriculum, assessments and online resources to provide personalized learning to ensure that each student is successful and achieves to his or her full potential. The Maximum Benefit© Model is designed to support all students by focusing on personalizing education, using data-driven decision-making, engaging students in learning through experience-based instruction, and ensuring that the school is agile and responsive to changing student needs, while always focusing on achieving optimal outcomes for students.
"We are honored that HILA has been selected as a Pearson innovation school," said Dr. Joseph E. Nyre, President and CEO of The Hope Institute for Children and Families. "At The Hope Institute Learning Academy, we are bringing forward a new model of education in partnership with the Chicago Public Schools to serve the greater Chicago area. To be able to collaborate with the world's leading education and technology company and benefit from its revolutionary approaches to 21st century learning, including the use of full digital pathways, will be an added benefit for the children we serve. Thanks to this collaboration, our students will have the newest and best learning materials and the most relevant and engaging lessons, all taught using instructional approaches that support every student, improve student outcomes and allow each child to reach his or her maximum potential."
Pearson chose HILA as a Pearson innovation school because of the Academy's unique approach to inclusive instruction and its commitment to differentiating learning so all students achieve at the highest level. Pearson has deep roots in the Chicagoland area. The nearby suburb of Glenview has been the home of Pearson's Scott Foresman elementary school publishing for more than four decades, and the company has more than 1,000 employees in Illinois.
"Our company has a long history in and a deep commitment to Chicago and Illinois," said Pat McHugh, Pearson's Vice President for Illinois. "Our collaboration with Chicago Public Schools and The Hope Institute for Children and Families to support this new school will allow us to significantly enhance our investment in the children of Chicago, as well as to work closely with the school's faculty as they implement our curriculum and assessment products."
McHugh added, "Pearson employees from around the Chicagoland area are enthusiastic about having a Pearson innovation school in our community and are eager to volunteer their time and energy in any way necessary to ensure its success."
At HILA, students will learn with Pearson's print and digital curriculum programs, including the award-winning enVisionMATH , the first-of-its-kind elementary math curriculum that combines visual animation and next-generation technologies with a comprehensive foundation in math skills, and Scott Foresman Reading Street , a preK-6 reading program designed to help teachers build readers through motivating and engaging literature, scientifically research-based instruction and a wealth of reliable teaching tools, including a full digital path. In addition, the company will provide ongoing professional development support - both through hands-on workshops and online - to ensure that HILA teachers are prepared to make the most of the core and supplemental curriculum products they will have in their classrooms.
The Pearson Foundation will also support the school both by documenting HILA's approach to differentiated learning and instruction and by helping HILA share this approach with teachers and educators across Chicagoland. In addition, HILA will be designated as an official Education Partner Site of this year's Jumpstart Read for the Record Campaign. Pearson Foundation president Mark Nieker said, "As a Chicago native, I'm personally looking forward to the success of this initiative. It's great to see Pearson give back to the Chicago community through our support of the HILA."
The Hope Institute Learning Academy will open on Sept. 8, 2009, with official dedication ceremonies to be held later in the fall.
About The Hope Institute for Children and Families
The Hope Institute Learning Academy is a Center of The Hope Institute for Children and Families, a nonprofit organization that focuses on achieving Maximum Benefit to all children by working in the areas of Education, Living, Health and Wellness, and Research, Policy, and System Development.
For more than 50 years, The Hope Institute has led the way in providing innovative educational approaches to help all learners meet their maximum potential. Students in Hope classrooms regularly exceed the national average for being "on task" in learning activities. But more importantly, Hope students experience the joy of learning to their full potential. For more information, visit: http://www.thehopeinstitute.us.
About Pearson and Illinois
The education and technology company Pearson has been providing learning solutions to Illinois schools for more than 100 years. Glenview has been the home of Scott Foresman school publishers since 1966, and students across the country have been learning to read with Scott Foresman books going all the way back to 1889. In Illinois, Pearson is known through the brand names Scott Foresman, Prentice Hall, Longman, SuccessMaker, NovaNET, PowerSchool, SuccessNet and so many more - names in the world of education that are recognized and respected across the state and around the globe. Pearson provides education and testing materials for all stages in life - from birth through professional learning - as well as the complex management systems that maintain student information data for thousands of schools. In our school, higher education, assessments, and professional businesses, there are more than 1,000 Pearson staffers in Illinois. Our representatives are living and working in every school district across the state, visiting teachers, principals and curriculum directors every single day. In fact, most teachers in Illinois have learned their profession by studying with Pearson's Merrill or Allyn & Bacon textbooks, and many have benefited from Pearson's professional development programs. For more information, visit http://www.pearsonschool.com.
About the Pearson Foundation
The Pearson Foundation extends Pearson's commitment to education by partnering with leading nonprofit, civic, and business organizations to provide financial, organizational, and publishing assistance across the globe. The Foundation aims to make a difference by sponsoring innovative educational programs and extending its educational expertise to help in classrooms and in local communities. For more information, visit http://www.pearsonfoundation.org.
###