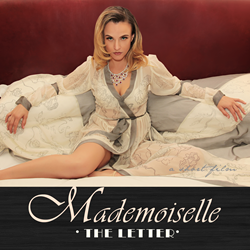 Your penned correspondence will linger long after the last word has been read
San Francisco, California (PRWEB) February 04, 2015
Anyone looking for a special way to ignite their Valentine's Day 2015 can turn to a new dressing gown line from visual media specialist Victoria Napolitano. The founder of Hopelessly Romantic Media Productions is excited to announce the launch of the Mademoiselle French Collection, which is featured in the latest issue of digital magazine Mademoiselle The Letter. While Napolitano flexes her muscles daily as a visual media expert, she has further demonstrated her creativity with her new romantic couture fashion designs.
Napolitano and Hopelessly Romantic Media Productions create stunning 3D logos, brochures, virtual and printed magazines, advertising animation, and more, but Napolitano further demonstrates her creativity by sketching her own fashion designs outside of creating digital and print publication masterpieces. The newly launched magazine, Mademoiselle The Letter, features a rich gallery of luxury romantic couture that was inspired by Napolitano's travels and life experiences. Determined to create a fashion design that included the most luxuriously romantic and sophisticated materials and garments available today, she implemented intricate details and lavish fabrics into her new romantic couture line. Using concepts drawn from a trip to Switzerland and memories of classic movies, Napolitano began sketching the Mademoiselle French Collection in 2014. She carefully entwined accents from Hollywood and Europe into the brand-new designs, creating an elegant, flawless collection that will inspire sophisticated women around the world to tap into their innate sensuality and femininity this Valentine's Day and beyond.
Each design featured in the special edition of Mademoiselle The Letter was sketched by Napolitano before being forwarded to high fashion designer Mariya Milovidova. At that point, Milovidova brings the designs to life by creating each piece and adding hand-painted accents on the silk chiffon fabrics. The final product of relentless creativity and partnership between Napolitano and Milovidova, hand-made, custom dressing gowns, is featured in the most recent issue of Mademoiselle The Letter. Focusing on fine fabrics and ornate details, Napolitano arranged for each luxury dressing gown to be delivered in a beautiful hat box. The full description of the hat box and gown can be found in Mademoiselle The Letter.
The digital magazine can be viewed in either English or French from most internet browsers. This newly launched publication and romantic couture line from Napolitano exude pieces from the Mademoiselle French Collection that are designed to foster sensuality in women this Valentine's Day and beyond. The Mademoiselle French Collection can be found at VictoriaNapolitano.com. Mademoiselle can be viewed in either the English version, or the French version.
About Hopelessly Romantic Media Productions
Founded by visual media specialist Victoria Napolitano, Hopelessly Romantic Media creates media streaming magazines, 3D logos, voiceovers, broadcast videos, and more. The publishing and media agency also hosts an in-house periodical, Hopelessly Romantic Magazine.