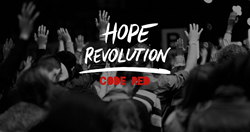 "Mass gatherings like Awakening Europe, Hope Revolution and Jesus Culture Europe, touch many lives and it is our privilege to air these incredible events LIVE as we trust God to see revival across the globe." - Wendy Alec
Plymouth, Devon (PRWEB UK) 25 September 2015
Hope Revolution aims to rally believers from all over Germany to transform Europe with the Gospel. It is made up of the Code Red Conference and Holy Spirit Nights with international speakers including Bill Johnson and Heidi Baker. The Gospel Youth Band will also be featured each evening.
The two-day event will be hosted at the Porsche Arena by Peter and Sabine Wenz of the Gospel Forum church in Stuttgart. Their son Markus is the youth pastor at the church and the visionary behind the Holy Spirit Nights.
Bill Johnson and Heidi Baker are often seen on GOD TV at various LIVE events. Bill is the leader of Bethel Church in Redding, California and its School of Supernatural Ministry. He is a best-selling author and sought-after speaker who believes the Church owes the world an encounter of God's love. Heidi is from Iris Global, which provides disaster relief in South Sudan, India, Malawi, South Africa, Madagascar and elsewhere. She is known for her work amongst orphans in Mozambique and her message of love in action.
Other speakers at Hope Revolution include Swiss minister, Jean-Luc Trachsel of the International Association of Healing Ministries (IAHM); Dutch evangelist, Mattheus van der Steen of the Gospel Music Festival (GMF) and Australian revivalist, Ben Fitzgerald, the visionary behind Awakening Europe.
Awakening Europe was a four-day event at the Grundig Stadion in Nuremberg following the 70th anniversary of the end of World War 2. Attended by thousands it was seen as an opportunity for Christians to take back history. Thousands more watched on GOD TV as the place that was once a centre of Nazi propaganda become a beacon of spiritual rekindling in Europe.
GOD TV will also air Jesus Culture Europe LIVE from Manchester, UK on 30 and 31 October featuring the highly popular Jesus Culture Band with top speakers from the USA including the movement's founder Banning Liebscher and John Gray who is the associate pastor at Joel Osteen's Lakewood Church.
"Since GOD TV was founded in 1995 as Europe's first daily Christian television network we've had a passion to see the Continent regain it's spiritual heritage," said Wendy Alec. "Mass gatherings like Awakening Europe, Hope Revolution and Jesus Culture Europe, touch many lives and it is our privilege to air these incredible events LIVE as we trust God to see revival across the globe."
All 10 Awakening Europe broadcasts can be viewed on demand at god.tv/awakeningeurope. Hope Revolution and Jesus Culture Europe will be available for VOD viewing shortly after the LIVE broadcasts. GOD TV is available in the UK on SKY (580), Freesat (694) and Virgin (279). Also online via smartphone (GOD TV App); PC (god.tv); or TV screen, (Roku).
For more details about Hope Revolution visit stuttgart.holyspiritnight.de or see god.tv for more information about GOD TV.
About GOD TV: GOD TV took to the airwaves in the UK in 1995 and now transmits from Jerusalem to a global reach of some 1 billion people. The network's worldwide broadcast license is held by Angel Christian Television Trust Inc, a US not-for-profit corporation. GOD TV is owned by several Angel Charities internationally, which in addition to the network's media outreach, assist people in the developing world. GOD TV adheres to the UK Evangelical Alliance Basis of Faith. Its signal is broadcast Free To Air (FTA) and is accessible to all.
Contact: GOD TV's UK & Ireland Regional Director, Fergus Scarfe at fscarfe(at)god(dot)tv
GOD TV Broadcast HQ: Jerusalem, Israel. International offices: USA (Orlando, Florida; Kansas City, Missouri) UK & Ireland (Plymouth, England), Europe (Hamburg, Germany), Asia & Middle East (Chennai, India; Sri Lanka), Africa (Cape Town, South Africa; Nairobi, Kenya), Australasia (Melbourne, Australia).