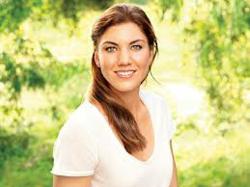 [Hope Solo] I'm happy to finally have products I can rely on and share my experiences with other women.
(PRWEB) October 23, 2012
The Simple brand was born in the UK in 1960 and was the first to create a cleansing product with no perfume and no color. This unique formulation was designed to care for even the most sensitive skin, while many mainline skin care product ingredients are common causes of skin irritation.
Click Here to read the review by reviews-domain.com.
Beautiful Hope Solo, famous in the women's soccer arena, seems like a perfect marriage when it comes to lending a face to promotion of a skin care product. In addition to her natural beauty and celebrity allure, she finds something in common with the Simple brand philosophy. Solo states, "My philosophy is look good, feel good, play good – and I live by this everyday. Simple looks at skincare the way that I look at life – the choices I make have an impact on my skin and I am mindful of maintaining a balance. I'm happy to finally have products I can rely on and share my experiences with other women."
So what does Simple have to claim for itself as a competitor in the skin care industry? In their words, "Here at Simple, we know taking care of your sensitive skin is priority #1. We have a range of cleansers, wipes, moisturizers, and eye care products to choose from - suitable for all skin types, especially sensitive skin. Our Simple skincare range has no dyes, artificial perfumes, or harsh irritants that can upset your skin. Instead, just our purest possible skin loving ingredients with added vitamins, for naturally healthy-looking skin. All Simple products are designed to be free of artificial fragrances, and are dermatologist tested, noncomedogenic, and hypoallergenic. Additionally, our eye care products are safe for sensitive eyes and contact lens wearers."
When Hope Solo brought home the Gold Medal for Team USA in women's soccer, Simple brand may have scored a winning goal by already having Solo's endorsement of their skin care product line.
Simple products are sold on Amazon.com, which also profiles a host of user experience reviews. For the review by Reviews-Domain.com, click HERE.