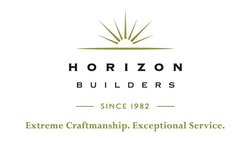 We try to present a company that is at the first rank in the industry, exemplary in both its business practices and the houses it builds, and interesting enough to merit the attention of other custom builders
Crofton, MD (PRWEB) January 19, 2009
Horizon Builders, a Crofton, Md.-based firm that specializes in the construction of architect-designed, custom residences in the mid-Atlantic region, has been named "Builder of the Year" by Custom Home magazine.
Custom Home, with a circulation of 40,000, is regarded as the premier source of information for builders, designers and architects about the custom home market. The Builder of the Year is chosen by the editors of Custom Home annually and is the cover story of the magazine's January/February issue (http://www.customhomeonline.com). Horizon is Custom Home's tenth Builder of the Year and the first from the mid-Atlantic region.
"To be selected as Builder of the Year by a publication that is noted for highlighting the work of the country's most talented design and construction teams is very exciting," said Joseph Bohm, president and CEO of Horizon Builders. "This is an incredible honor."
The selection of Builder of the Year is based on a variety of criteria. "We try to present a company that is at the first rank in the industry, exemplary in both its business practices and the houses it builds, and interesting enough to merit the attention of other custom builders," says Bruce D. Snider, senior editor of Custom Home. "We have to think very, very highly of a builder to make them the subject of this story."
Horizon has received many awards and honors over the years for excellence in custom home building. In addition to Custom Home, Horizon's work has been featured in numerous magazines including Washingtonian, Southern Living, Residential Design & Build, Builder and Remodeling.
Horizon Builders has built architect-designed homes since 1982. Considered the premier estate builder in the metro-Washington area, Horizon approaches every project as a partnership between itself, the homeowner and the architect. For more information about Horizon Builders, visit http://www.horizonbuildersinc.net/.
Media contact:
Connie Helms
410-980-0966
###