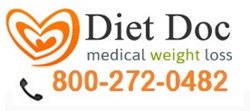 This prescription hormone medication, coupled with the tailor made diet plans, sends a powerful signal to the brain to release fat stores into the bloodstream to be burned for energy.
Phoenix, AZ (PRWEB) October 04, 2013
With the increasing need for two income households, and with the convenience of drive through quick dinner pickups, fast food sales are soaring in America. Chain restaurants have begun altering their menus to include more family size meals. Although a number of popular chain restaurants are seemingly incorporating more "healthy" food choices to their menus, a study published in the Journal of the Academy of Nutrition and Dietetics, and reported by Medical News Today, reports that the overall calorie and sodium levels have remained the same, making one doubt the actual healthful benefit of these advertised healthy food choices. With this in mind, Diet Doc has designed new meal plans that incorporate healthier foods and medically designed weight loss plans, improving health for patients nationwide and helping to break their addiction to unhealthy fast food.
Helen Wu, policy and research analyst at the Institute for Population Health Improvement at UC Davis Health System, states that "Consumers need to be aware that when they step into a restaurant, they are playing a high-stakes game with their health by making dietary choices from menus that are loaded with high-calorie, high-sodium options. This is a game that health-conscious consumers have a very low chance of winning."
Diet Doc realizes that Americans are busy and that there just may not be enough hours in the day to devote to planning and preparing healthy meals. The company combines the knowledge and expertise of an entire team of specially trained and board certified doctors, nurses, nutritionists and coaches that are dedicated to helping all Americans feel better and become healthier by educating clients on which specific foods will promote permanent weight loss and which foods are detrimental to good health and longevity.
Subsequent to a medical evaluation, which is followed by a consult with a Diet Doc physician, patients will work closely with certified nutritionists to devise prescription hormone diet plans that incorporate green leafy vegetables, lean proteins and foods that are rich in essential nutrients. These prescription hormone diet plans are specific to each patient's individual nutritional needs, age, gender, activity level and anticipated weight loss goals, are compatible with almost any medical condition and fit comfortably into each patient's particular lifestyle. New patients will receive a complementary cookbook that is compatible with Diet Doc's prescription hormone medication and features over 50 delicious and healthy meal ideas that the entire family will enjoy, making meal planning nutritious, yet simple and quick. Clients find themselves enjoying the meal plans and motivated by the fast weight loss, while looking and feeling better than ever before with increased energy.
To accelerate weight loss, qualified patients will add Diet Doc's 100% pure prescription hormone medication to the diet plans. This prescription hormone medication, coupled with the tailor made diet plans, sends a powerful signal to the brain to release fat stores into the bloodstream to be burned for energy. This old, stored fat is typically trapped in the hips, thighs, underarms and belly, characteristically the most stubborn and difficult areas to lose.
Prescription hormone diet plans will be uniquely designed for any body size and shape and for those that are struggling to lose that difficult last 10 pounds to those that must lose 100 pounds or more. To begin the life changing transition into a longer, healthier and more active lifestyle by learning to make healthy food choices, lose excess weight and manage a permanent weight balance, call the fast weight loss experts today to schedule a complementary and private consultation.
Diet Doc Contact Information:
San Diego, CA
(800) 272-0482
Weight-loss(at)Dietdoc(dot)info
http://doctorsupervisedweightloss.com/testimonials.php
Twitter: DietDoc10
Facebook: DietDocNaturalHealth