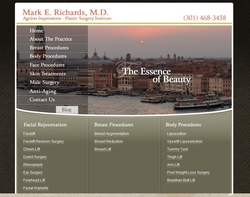 Estrogen is essential for the optimal health of both sexes. However, most men never have significant circulating levels of estrogen in their bodies, and women only have significant levels for approximately 25 years or less.
Rockville, MD (Vocus) November 2, 2010
Contrary to public opinion, Dr. Mark Richards says estrogen is necessary in both men and women to maintain the proper functioning of many internal systems, including brain function and bone structure. He adds that while many people believe the estrogen in our cells comes from estrogen circulating in our blood stream, this belief is unfounded: "Estrogen is essential for the optimal health of both sexes. However, most men never have significant circulating levels of estrogen in their bodies, and women only have significant levels for approximately 25 years or less." Dr. Richards says as hormone levels fluctuate throughout our lives, bioidentical hormone testosterone pellets can help both men and women re-establish the protective benefits of those depleted hormones and reverse that 'mid-life crash.'
At his Washington D. C. plastic surgery practice, Dr. Richards says the majority of the intracellular estrogen in both sexes is created 'on location' or inside the cells that need estrogen for optimal function by the conversion of testosterone to estrogen. He says the most important thing to remember is that when testosterone levels drop, tissue levels of both estrogen and testosterone drop, causing both men and women to feel poorly. He says an increasing number of experts are describing this decrease in the level of testosterone and the resulting drop in intracellular estrogen as Relative Androgen Deficiency. Simply stated, the levels of androgen or testosterone are no longer sufficient to maintain an optimal level of health and well being. This can and often does occur prior to the failure of a woman's ovaries to produce estrogen. A 40 year old woman has approximately half the testosterone that she did at 20. This can give her full blown menopausal symptoms years before her ovaries no longer work. Dr. Richards says a specific bioidentical hormone therapy can significantly reverse common menopausal symptoms such as insomnia, hot flashes, vaginal dryness, and osteoporosis. Dr. Richards supplements the lower levels of testosterone with a time-released bioidentical testosterone pellet, which is inserted into the fat just above the buttocks through a 3 millimeter incision that heals quickly without sutures. In addition to a reversal of the symptoms that accompany Relative Androgen Deficiency, this method allows his patients to avoid the well-documented and publicized negative effects of estrogen therapy.
According to Dr. Richards, women are not the only sex affected by the mid-life crash. When men suffer from a change of life related to Relative Androgen Deficiency, it is often referred to as Andropause. He says between 1987 and 2007, middle-aged American males suffered a drop in average testosterone levels of approximately 30%, which may explain why an increasing number of men are experiencing the effects of osteoporosis, increased body fat, depression, low libido, diabetes, insomnia, and a loss of muscle mass at a much younger age than in the past. One recent study surveyed men 45 years of age and older at their primary care doctor's office and found 38% of them to have low testosterone.
In light of these statistics, and his experience with his patients in Washington D C, Dr. Richards says he believes Relative Androgen Deficiency causes the symptoms of Menopause and Andropause, and can be efficiently and cost-effectively treated through bioidentical testosterone pellet therapy: "Patient satisfaction rates are enormously high, with a dramatic improvement in their physical and emotional health through the use of these testosterone pellets every three to four months."
About Dr. Richards
Dr. Mark E. Richards earned his medical degree from the School of Medicine at the University of Maryland, where he also completed his general and plastic surgery residencies. He is certified by the American Board of Plastic Surgery and pursues further technological expertise and knowledge of the latest surgical advances through continuing education courses. In addition to being recognized as a Top Doctor in the Maryland and Washington D. C. area in several publications, Dr. Richards has served as president of the National Capitol Society of Plastic Surgeons and the Montgomery County Medical Society.
Dr. Richards' plastic surgery practice is located at 11300 Rockville Pike Suite 912 in N. Bethesda, Maryland 20852; he can be reached at (301) 468-3458 or http://www.plastic-surgeon.us/index.html
###