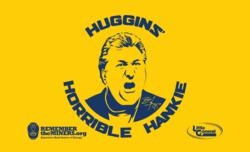 (PRWEB) November 05, 2012
Remember The Miners is excited to announce the release of the official Huggins' Horrible Hankie. The hankies are available for purchase online at the Remember The Miners store and are also available at Little General Stores starting today.
Coach Bob Huggins is the Honorary Chairman of Remember The Miners. Fans are encouraged to wave the distinctive bright yellow hankie during sporting events to show support for West Virginia's beloved basketball coach.
Proceeds from the sale of Huggins' Horrible Hankies will benefit the Scholars Program. The Remember The Miners Scholars Program was created in 2011 to provide financial aid to miners, dependents of miners, and students pursuing higher education in the mining industry. Remember The Miners and the West Virginia Coal Foundation created the Scholars Program to support families of the West Virginia mining community. Awardees of the scholarship are miners, dependents of miners, or students pursuing higher education in the mining industry.
Applications for the Fall 2012 Scholars Program are open now, and can be found here.
Buy your Huggins' Horrible Hankie online at the Remember The Miners Store, or in your local Little General Store.
About Little General Stores
Beckley, West Virginia-based Little General Store, owned by Cory Beasley and Greg Darby, operates 85 convenience stores and 15 freestanding restaurants. The company is a franchisee for 28 Subways, 15 Godfather's Pizzas, 11 Sam's Hot Dog Stands, seven Burger Kings, six Arbys, four Taco Bells, three Krispy Krunchy Chicken Stands, two Steak Escapes and the 79er Restaurant in Burnsville, West Virginia. For more information, see http://lgstores.com/.
About Remember The Miners
Remember the Miners is a public awareness campaign dedicated to honoring the legacy of all miners and the mining industry, bringing the human element to the forefront of the energy debate, and remembering the miners who have fallen. Remember The Miners also raises awareness about the sacrifices that miners and their families make for our country. http://www.remembertheminers.org.