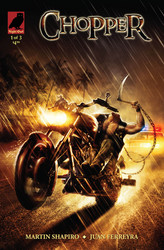 "The advertising landscape is experiencing a seismic shift toward brands engaging consumers on a deeper level by actually entertaining them with premium, social content versus interrupting them with inferior ads that simply get ignored." J.C. Christofilis
Beverly Hills, CA (PRWEB) February 18, 2011
DILEMMA, a Los Angeles based Branded Entertainment and Marketing Communications Agency, has officially launched an ambitious online horror experience 'Chopper' today with the release of the project's teaser trailer featuring international horror icon Tyler Mane (Halloween 1,2). Based on the upcoming comic written by Martin Shapiro, Chopper is essentially a contemporary spin on the timeless Sleepy Hollow mythology with storylines revolving around a headless outlaw biker seeking vengeance in the afterlife by killing mortal sinners.
Chopper marks the first project moving into production from a scheduled slate of branded programming that DILEMMA will distribute across a variety of traditional and non-traditional channels in 2011. The company has already lined up a number of sponsors eager to support the development of branded content that will resonate authentically with today's digitally connected consumer. Mr. Christofilis added, "The advertising landscape is experiencing a seismic shift toward brands engaging consumers on a deeper level by actually entertaining them with premium, social content versus interrupting them with inferior ads that simply get ignored."
For Chopper, Southern California based action sports apparel brand Sullen immediately recognized the potential for the horror and heavy metal music related storylines to strike a chord with their key, young male demographic and became a supporter early in the process. Sullen Clothing's co-founder, Jeremy Hanna, added "We pride ourselves on being an innovative, art-driven company and J.C. laid out a clear vision of how Chopper's creative execution will enable Sullen to authentically reinforce our edgy brand values with our existing fans, while driving awareness of our products with a new consumer base as well.
The teaser trailer pulls no punches in delivering the mayhem and gore true horror fans come to expect with such quality entertainment. DILEMMA tapped a far-reaching network of Hollywood veterans to execute the concept with the highest possible level of craftsmanship and production value despite the challenges of lower budgets typically associated with online content. The project's VFX team recently completed work on 'The Green Hornet' and the practical FX team lead, Jeff Farley, has over 30 years experience delivering effects for such horror classics as "The Blob' and 'Pet Semetary.'
Mr. Christofilis commented, "My intent was to showcase that Hollywood-level production value is truly possible in the online realm and we can reach vast online communities that justify increased budgets in this space. Traditional talent and producers are acknowledging the fact that the long-promised potential of so-called 'convergent' media is finally being achieved and they would be wise to step up their involvement in fast evolving mediums such as online and mobile. Our star, Tyler Mane, is famous for playing roles in traditional fare such as Michael Myers in Rob Zombie's last two 'Halloween' films and Sabertooth in 'Xmen,' yet he was able to envision how online will be instrumental in diversifying his stature in the industry. He was bold enough to embrace this medium as the future."
On the digital front, DILEMMA has recently expanded Chopper's creative team to include contributions from Transmedia Producer, Nina Bargiel. In addition to television writing credits on Disney's 'Lizzie McGuire,' Nina co-created last year's hit MTV webseries 'Valemont.' Chopper's teaser trailer can be found online via the following link. (Caution: Graphic Content)
http://www.youtube.com/watch?v=xosUS87LI9Y
Campaign elements for Chopper, including the project's core webseries, will be released starting Summer 2011. The announcement of additional sponsorship and distribution partners will precede launch of the full experience over the upcoming months. Contact DILEMMA to discuss brand integration opportunities with Chopper, other in-house projects or custom campaigns.
COMPANY INFO:
DILEMMA is a hybrid marketing communications and branded entertainment agency that develops and produces innovative, integrated media solutions to grow any business. DILEMMA bridges the creative gap between Hollywood and Madison Avenue by hand picking the most talented strategists, designers, writers, musicians and visual storytellers capable of forging emotional connections between brands and consumers across all media and technology platforms. Our principals and partners have successfully produced content and launched brand marketing campaigns for companies including NBC, Audi, MTV and Warner Brothers Music.
###