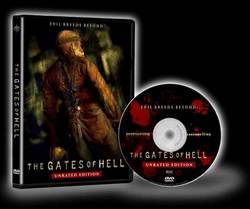 ...Light years ahead of most horror that's come out in recent years...definitely worth your time. ...AIN'T IT COOL NEWS
(PRWEB) November 8, 2010
When Australian independent filmmaker, Kelly Dolen was turned away by his local film industry for daring to make a horror film in his home country, he decided to go it alone and prove them all wrong…and he did.
Determined and driven by an uncontrollable passion and desire to succeed, Dolen approached AFI award winning producer David Parker (Malcolm, The Big Steal, Irresistible) for some advice.
Parker realizing the enormity of Dolen's plan, could see something in Dolen he hadn't seen for some time; a real talent with the true drive and tenacity required to succeed in the film industry. Parker knew Dolen would make his film with or without his help and could see this was no pipe-dream; this was a ride Parker wanted to be a part of with a filmmaker that knows no boundaries.
Dolen didn't meet with Parker empty handed either, Dolen had already single handedly raised the majority of his $1.2M budget. Impressed and amazed at Dolen's achievement, Parker offered to produce his film and assist him in raising the remaining budget.
Dolen accepted his offer and so the Dolen and Parker team was born.
With no distribution in place, Dolen insisted he would not make the same mistakes he did with his first Independent feature film 'Reign in Dardkness' and get screwed by the distributors; so with the assistance of co-producer and long time friend David W. Allen they would distribute 'The Gates of Hell' themselves online.
Dolen went out to rally up a team to assist him in realizing his dream. Joining the team was Australian Production Designer Justin Dix. With years of experience and an infectious enthusiasm that inspires his crew to reach beyond their means, Justin brought a wealth of experience to 'The Gates of Hell' having worked on 'Star Wars Episode II & III', 'Charlotte's Web' and 'Storm Warning' for which he won 'Best Make-Up Effects' at Screamfest.
The Gates of Hell is a dark psychological thriller/horror film based in a totally believable world where gratuitous on screen violence is not required. There are visceral horror elements with the violence being an integral part of maintaining the momentum of the story and the horror lies more in the viewers imagination than what is "splattered" on the screen.
Driven by the raw need for survival, The Gates of Hell is an insanely rapid and brutal story that grabs its viewer from the very first frame. A uniquely thought provoking piece that ignites the prescribed emotional response from the audience and leaves them with chilling lingering afterthoughts long after the confronting final scene.
Dolen and Parker took the film to 'Screamfest' and 'Amberg Horror Fest' where 'The Gates of Hell' was very well received by industry peers and alike...
"...One of the best Australian horror films ever made...It can stand on its own two legs against anything in the world." ...FANGORIA
"...Light years ahead of most horror that's come out in recent years...definitely worth your time." ...AIN'T IT COOL NEWS
"...Absolutely fantastic! The thinking mans horror." ...AMBERG HORROR FEST
'The Gates of Hell' is available on DVD for USD$22.97. You can only purchase the DVD exclusively at the official web site http://www.thegatesofhellmovie.com .
For interviews with Writer/Director Kelly Dolen and Producer David Parker
Email: kel(at)rapidfire-productions(dot)com
# # #