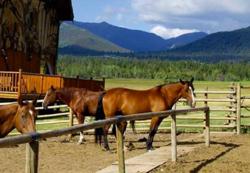 These are some of the best long term real estate investments in the region
Fort Collins, Colorado (PRWEB) December 31, 2012
Many people are taking advantage of low interest rates and a resurgent Colorado real estate market to acquire some of the most beautiful horse ranch properties in the Fort Collins area. Long time resident and realtor, John Stegner Sr., is seeing a sizable uptick in the showings and offers on these properties. While interest rates and a healthy market are helping, there are other factors at work that are playing a role.
One of these factors is the aftermath of the High Park Fire that recently burned nearly 300 homes above Fort Collins. Many residents of these mountain communities have chosen to move to the open flat lands of the Front Range. Specifically the areas around Fort Collins provide them the space that they had in the mountains without the imminent danger of future forest fires.
John Stegner Sr. of New Era Realty explains, "If you are looking to purchase a horse property in the Fort Collins area, you should be prepared to pay near or above asking price." While this may not be music to the ears of some buyers, it shouldn't be a deterrent either. John goes on to say, "these are some of the best long term real estate investments in the region, and most sellers are cognizant of this". John's understanding of these types of deals has helped position him as one of the foremost experts in horse properties.
Another factor that puts Northern Colorado in high demand for horse ranches is that one of the best Equine Sciences Facilities is located nearby at Colorado State University. While the school features an outdoor arena, round pens, sheds and paddocks, many students and faculty are continually looking to find homes to board their horses. Over the years, the net affect is an increasing number of horses and places needed for them and their owners.
Then there are those who are seeking to escape from the hustle and bustle of city living. This dream is as old as the west, but there will always be a steady stream of people that find the Fort Collins area to have the perfect balance of town and country living.
Combine all of this with an ideal setting for horseback riding and you have a winning combination for a healthy real estate investment.
For more information please contact John Stegner via http://www.tophomesforsaleco.com