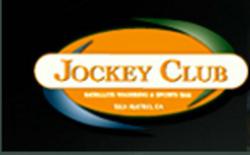 For only the general admission cost of $3, all of our customers can enjoy a free buffet lunch from 11 a.m. to 2 p.m. on Fan Appreciation Day
San Mateo, CA (PRWEB) April 17, 2012
The Jockey Club in San Mateo, the San Francisco Bay Area's top satellite wagering facility for horse betting, is inviting all horse racing enthusiasts to a Fan Appreciation Day on April 26.
"For only the general admission cost of $3, all of our customers can enjoy a free buffet lunch from 11 a.m. to 2 p.m. on Fan Appreciation Day," Jim Fetter of The Jockey Club said.
In addition, The Jockey Club will be the place to watch and wager during the Kentucky Derby on May 5. The Jockey Club does get crowded during the event, so consider coming early or even making horse wagering bets on May 4.
May 19 brings the second leg of the Triple Crown, the Preakness Stakes, to the Jockey Club. The San Mateo Event Center will also be hosting the Maker Faire that same weekend, adding traffic concerns and reducing parking availability. The Jockey Club recommends arriving early to park in the Event Center East Lot, off Saratoga Boulevard.
As an alternative, patrons interested in watching and wagering on the races that weekend will have the option of attending at other simulcast wagering facilities, at the fairgrounds in Pleasanton or San Jose, or Golden Gate Fields in Albany. The Jockey Club also recommends that patrons sign up for the free CalRacing Club, which features many perks, such as every seventh admission free. The Jockey Club will be issuing Jockey Club Parking Placards to CalRacing members to make parking easier for patrons during the weekend.
For more information about upcoming races or any of the Jockey Club's products or services, call 650-295-0307, view the club on the web at http://www.smjockeyclub.com or visit 2495 S. Delaware St. in San Mateo.
About The Jockey Club of San Mateo
The Jockey Club of San Mateo offers the perfect venue for enjoying live horse wagering and shows from around the globe. The Jockey Club's lounge and private rooms are ideal for football booster clubs, corporate outings, birthdays and other events. It is open Wednesdays through Sundays, starting at 10 a.m., with night racing Thursdays through Sundays. Parking is free year round.