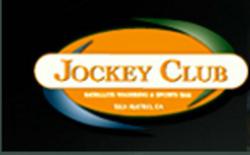 Will we have a Triple Crown Winner this year? See if 'I'll Have Another' can win the Preakness on May 19
San Mateo, CA (PRWEB) May 17, 2012
Avoid the rush and arrive early as The Jockey Club, San Francisco's leading horse racing, horse betting and horse wagering center, will be featuring the Preakness Stakes on May 19. Come out to watch and wager on fantastic thoroughbred racing at the Jockey Club at the San Mateo County Event Center.
"Will we have a Triple Crown Winner this year? See if 'I'll Have Another' can win the Preakness on May 19," said Jim Fetter of The Jockey Club.
General admission to The Jockey Club on May 19 and May 20 will be free; however, the Jockey Club does recommend arriving early to avoid traffic and parking issues as this is the same weekend as the Maker Faire at the San Mateo County Event Center. The event will be open from 10 a.m. until 8 p.m. on May 19 and 10 a.m. until 6 p.m. on May 20.
"Our parking area will be reduced," Fetter said. "Additional, free parking with a shuttle to The Jockey Club is available at the Franklin-Templeton parking structure off Saratoga Avenue, near the SMPD station. We suggest you approach this parking lot from Hillsdale Boulevard."
The Jockey Club of San Mateo brings the thrill of horse racing and horse wagering directly to the community. The horse betting center is open at 10 a.m. Wednesdays through Sundays, and closed Mondays and Tuesdays.
For more information about the Preakness Stakes or any of the Jockey Club's products or services, call 650-295-0307, view the club on the web at http://www.smjockeyclub.com or visit 2495 S. Delaware St. in San Mateo.
About The Jockey Club of San Mateo
The Jockey Club of San Mateo offers the perfect venue for enjoying live horse wagering and shows from around the globe. The Jockey Club's lounge and private rooms are ideal for football booster clubs, corporate outings, birthdays and other events. It is open Wednesdays through Sundays, starting at 10 a.m., with night racing Thursdays through Sundays. Parking is free year round.