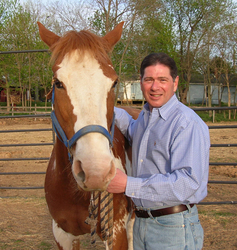 Burbank, CA (PRWEB) August 6, 2008
Famed sports writer Fred Glueckstein has joined USHorse.biz as a feature columnist. Author of the critically acclaimed sports biography, Mickey Mantle: Rookie in Pinstripes, Glueckstein will contribute profiles on the famous and not-so-famous and their remarkable love for horses.
Based in Sykesville, Maryland, Glueckstein is noted for his memorable non-fiction sports pieces that lend unique insight into the past. His profiles of celebrated horse enthusiasts, such as Jacqueline Kennedy Onassis, Gen. George S. Patton, Dick Francis, Ronald Reagan, Anna Sewell and Marguerite Henry, have appeared in numerous equine publications, journals and anthologies. This month, the famed author and USHorse.biz member will speak and sign copies of his new book at the National Baseball Hall of Fame and Museum in Cooperstown, NY.
Fred Glueckstein is the first of a series of equestrian experts who will be showcased by USHorse.biz in the months to come. Their columns, which cover a range of horse-related topics, including equestrian sports, shoeing, equine nutrition and animal psychology, will enlighten, engage and entertain horse lovers from all walks of life.
For more information on how USHorse.biz can help you promote your own equestrian business, visit http://www.USHorse.biz or contact Judy Walker at 818-551-1251. We offer custom web site design and hosting for an affordable $99.95 per month, or custom editable web pages for $29.95 and $49.95 per month, plus a variety of other on-line tools.
###