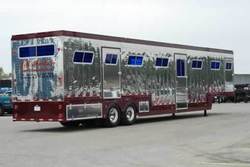 Chicago, IL (PRWEB) October 30, 2009
Fleet Equine, a manufacturer of commercial horse vans located just 30 minutes from Chicago, is offering customers the chance to express themselves through customizable, high-quality horse vans.
Unlike other trailers traditionally used in the commercial transportation industry, horse vans are not a common commodity among trailer dealers. Until now, people in the business of transporting horses have had to go to great lengths in order to secure a horse van that is not only of high quality, but also aesthetically pleasing. Now, commercial transporters of horses have a top-of-the line resource for high-quality horse vans in Fleet Equine.
Fleet Equine offers three primary types of horse vans, all built to quality standards that consider both performance and durability. The three typical designs include the royal van, classic van, and the classic box. Designed to last for years-even when subjected to the rigors of the road--as well as to make the transportation process easier, all models are fully customizable.
The high-quality horse vans offered by Fleet Equine truly represent a change in the transportation industry with a focus on horse vans in addition to other types of trailers. Further, Fleet Equine not only sells high-quality horse vans, but also offers horse van restoration services for commercial transporters of horses that wish to restore a damaged horse van.
Through offering customizable options on their horse vans, which are crafted to the highest quality and discriminating standards, Fleet Equine has moved toward focusing more on the commercial horse van transporter as an important member of the transportation industry. Conveniently located near Chicago, they can be easily reached for showroom and restoration purposes, also offering clients pick-up and drop-off at either of the two local airports.
Fleet Equine
Media Contact:
Jerry Styrczula
888-444-7941
http://fleetequine.com
###