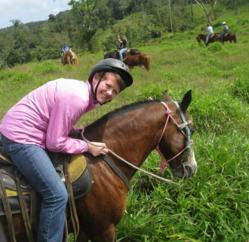 The theme for this avenue of approach is from Chuck Grant, the grandfather of American dressage: "Ask often, demand nothing, and reward generously."
Dallas, TX (PRWEB) September 29, 2012
The Eat, Pray, Ride Epona Equestrian Journey is a once in a lifetime equine facilitated learning adventure that includes a three day Eponaquest workshop and a Costa Rican riding trek, hosted by Leaves and Lizards Arenal Volcano Cabin Retreat.
Facilitated by Shelley Rosenberg – Eponaquest Advance Instructor, Eponaquest Senior Faculty, Grand Prix rider, trainer, and author of "My Horses My Healers and Accessing Your Intuition" & Nancy Coyne – Psychiatrist, Eponaquest Advanced Instructor, Eponaquest Senior Faculty.
This is an advanced intensive exploring how riders can create a deeper, more effective relationship with their equine partners in the twenty-first century. The program will help one increase intuition and self-awareness, access a deep understanding of the horses' mind and body, and develop awareness of how one and ones emotions effect ones relationship with their horse or horses.
The eight individuals accepted into this advanced program can bring their own horses or ride one of the venue's school horses. Welcome the biggest training challenges or the most complicated ride. This program will help one truly listen to ones horse, integrating the Eponaquest Approach to reading misbehavior as communication, using the emotional message chart as a common language, and mastering authentic skills for relating to horses and humans alike.
The theme for this avenue of approach is from Chuck Grant, the grandfather of American dressage: "Ask often, demand nothing, and reward generously." While this way of training horses is not new, the team has found that the Epona tools can help one achieve success more quickly and efficiently than ever before. This program will focus on one as the rider, teacher or trainer, looking at how one has gotten to this point in ones life and what is on ones path going forward. The rider will learn how to set boundaries with their horse, oneself, or their clients, as well as how to use the Epona tools in ones everyday life.
WORKSHOP DETAILS
Eat, Pray, Ride: An Epona Equestrian Journey (Horseback Riding Costa Rica) - Shelley Rosenberg & Nancy Coyne
January 8, 2013 to January 16, 2013
Alto Monterrey Alajuela, Costa Rica (Leaves & Lizards Arenal Volcano Cabin Retreat)
Cost: $4100 which includes:
$1500 – tuition
$2600 — food, lodging, guide services, horses and trek support (transportation, tips & alcoholic beverages are not included)
Dates: January 8-16, 2013
Payment Schedule:
$2050 — Due upon registration
$2050 — November 10, 2012 (60 days prior to the start of the trek)
Eat, Pray, Ride will help you:

Advance horse's skills and move forward in ones training
Explore extensive riding skills, including innovative bridle-less riding techniques on even the most difficult horses and use of the bit-less bridle
Access the rider's intuition
Teach in a positive and safe way
Discover how one learns best
Enlist the horse as a thoughtful, willing partner
Establish ethical buying and selling practices
Practice advanced horse care
This program will take place in a safe, confidential environment, where fear is respected as a message, not judged or ignored, where everyone can ask questions that have not been addressed in the traditional riding arena. The program will look at the horse and the art of riding from a point of desire and how to reach it. The team will teach the rider how to reflect on your riding patterns, and how to improve them. The team will explore the newest, state of the art horse equipment and teaching skills. The rider will leave with tools for riding into their personal and mutual relationship. They will develop the tools and confidence to look to themselves for the clear path and find their answer.
Daily riding includes trekking and ground work and will be integrated with a variety of Epona tools focused on strengthening interspecies partnerships, increasing awareness of self and nature. Shelley Rosenberg and Dr. Nancy Coyne will guide the rider in new, creative methods to connect and partner with horses and humans.
Please Note: Time in the saddle will range from 3 hours to 6 hours per day. The rider will be sharing a room with another person. Single accommodations are not available on this trek. A moderate degree of physical fitness is necessary to complete this journey of adventure and discovery.
To Register: Contact Debbie at leavesandlizards (at) gmail (dot) com or by phone, Toll Free: 888-828-9245. http://www.leavesandlizards.com
For those individuals planning to register for the Eponaquest International Apprenticeship — Costa Rica, an additional Eat, Pray, Ride Epona Equestrian Journey will be held April 17-25, 2013 to allow the rider to complete their advanced workshop requirements. For additional information please visit: http://eponaquest.com/workshop-details/?event=441