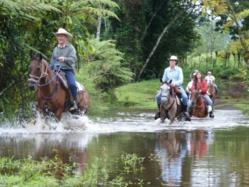 We are so excited to have the chance to work with this well known US based TV show!
Culpepper, VA (PRWEB) July 27, 2012
Best of America by Horseback TV Show Hosted by Tom Seay features a different riding location each week. Featured locations are riding destinations viewers can visit with their own horses or are sites that provide horses for their guests. Best of America By Horseback is a wonderful educational and information series on trail riding and traveling! Viewers enjoy watching the show for the beautiful riding locations, history and wildlife of each area. It can be seen each week on RFD-TV.
Tom Seay and Best of America by Horseback will be featuring an 8 Day/7 Night "Costa Rica Jungle Pura Vida Trek" at Leaves and Lizards Arenal Volcano Cabin Retreat. Riders will be able to join this trek and be featured on the show! Space for this trek is limited to 22 riders. There is limited availability for non-riders who accompany riders.
"We are so excited to have the chance to work with this well known US based TV show!" said Debbie Legg co-owner of Leaves and Lizards Retreat.
The Leaves and Lizards horseback riding Costa Rica experience is second to none. Their Equestrian Journeys are more than a horse trek. It's Costa Rican culture,volcanoes, professional naturalist guides, rainforest, nature, and, of course, fabulous Costa Rican horses!
Itinerary for the Costa Rica Jungle 'Pura Vida' Trek:
March 16th: Cast, Crew and Trekker 'Welcome Dinner' at Leaves and Lizards Arenal Volcano Cabin Retreat.
March 17th: Tope Parade. Choose horses and participate in traditional Costa Rican Tope in Monterrey- a small, typical Costa Rica Town. Hours in the Saddle: +/- 4
March 18th: Waterfall Ride. Ride through pastures, rivers, and rainforest. Go for a refreshing swim at a waterfall in the rainforest and then head to 'Finca Tuete' a working dairy farm. Hours in the Saddle: 4+
March 19th: Trek to Venado Valley. Ride across countryside through open pastures, rainforest and country roads to 'Finca Ojo de Agua' in Venado Valley. This 90 acre horse farm has over 40 acres of protected, primary rainforest and is bordered by the beautiful Rio Nilo. It has a large outdoor arena and a small indoor arena. Hours in the saddle: 6+.
March 20th: Cowboy Games. Costa Rican guides have organized a fun filled day of cowboy related cultural activities…full of surprises and competition! While no formal "trail riding" this day, there will be time in the saddle participating in these 'Cowboy Games'.
March 21st: Rainforest and Mountain Ridge Ride. Enjoy stunning views of the Arenal Volcano riding through rainforests, pastures and country roads. Return to Finca Tuete. Hours in the saddle: 6+
March 22nd: Day at Liberty. Free morning to ride and play at liberty. Take the opportunity to ride bareback, practice new skills and swim with your horse in a pond! Or choose to relax for the morning and then we will all head to The Springs Resort and Spa in the afternoon for a relaxing soak in the Arenal hot springs. Goodbye Dinner at Leaves and Lizards in the evening.
March 23rd: After breakfast transportation back to the airport. (Some may choose to stay on and enjoy the other area activities-zip lines, hiking at the volcano, white water rafting, jungle river trips-inquire at the time of reservation-space on first come first serve basis).
About Leaves and Lizards:
Leaves and Lizards Arenal Volcano Cabin Retreat is a small, intimate facility with 6 cabins, 2-2 bedroom houses and a small, family style restaurant for guests only; situated on 26 acres of rolling hills with an unbelievable, panoramic Arenal volcano view and the surrounding mountains and valley. Leaves and Lizards keeps a stable of well trained and cared for horses, offering private one of a kind trail rides through the Costa Rican countryside. Other accommodations for this event will be at the Finca Tuete Guest Hacienda and the 'luxury' bunkhouse at Finca Ojo de Agua.
To register for the trip click here or call 1-888-828-9248.