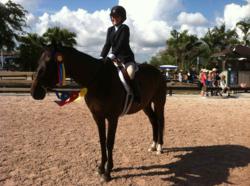 "In my own life, I don't know what I would have done without horses," said Stratemann. "It's all incredible—the opportunity for profit, Jodi's donation, and the things we will be able to do with Liz's kids to help both kids and horses.
Wellington, Florida (PRWEB) September 29, 2011
Horse Gold, developers and manufacturers of GastroMax3™ oral paste, the industry's most advanced equine gastric ulcer prevention solution, announced the launch of a new not-for-profit pilot program under the company's channel sales division. Through the program, equine not-for-profit organizations benefit both from selling the product at a profit and receiving donations. The first participants are Elite Thoroughbred Adoptions in Loxahatchee Groves, Florida, and Horses Healing Hearts in Wellington, Florida.
According to Scott Mangini, PharmD, developer of GastroMax3 oral paste and vice president of Horse Gold, Jodi Siegel, director of public relations and channel sales, came up with the idea for the program after meeting Liz Olszewski, founder of Horses Healing Hearts (HHH).
Through interaction with and care of horses, HHH teaches coping skills to children whose families have been torn apart by drug and alcohol problems. Consumers who want to assist HHH can purchase GastroMax3 oral paste directly from HHH at http://www.hhhgm3.org or by printing a coupon and using it at participating feed and tack stores. HHH is managed by Olszewski, whose childhood was affected by parents who abused drugs and alcohol.
Upon a recommendation from store manager Holly Morrell at Grand Prix Feed and Supplies in Wellington, Fl., a participating store, Siegel also contacted Sonia Stratemann of Elite Thoroughbred Adoptions about participating in the program. "That's when the fun really began," Siegel said. "We discovered the two organizations have a lot in common. Not only will they both benefit from this program, but they are going to begin working with one another to help both Liz's kids and Sonia's horses."
The mission of Elite Thoroughbred Adoptions (ETA) is to help ex-racing horses find new careers, whether it is being a family pet, trail horse, polo pony, show horse, barrel racer or pasture pal. ETA is one of the original foster homes working with the Florida Thoroughbred Retirement and Adoptive Care (TRAC) organization. Many of the horses need help becoming re-socialized to a new environment, because race horses are often kept in stalls most of their lives. They need help adapting to freer environments. Some of the horses who come to ETA have been neglected or mistreated, but most need physical rehabilitation.
"In my own life, I don't know what I would have done without horses," said Stratemann. "It's all incredible—the opportunity for profit, Jodi's donation, and the things we will be able to do with Liz's kids to help both kids and horses. On top of that, I am extremely impressed with GastroMax3 paste. That's what I'm most excited about at the moment." Stratemann said after only a few days of using GastroMax3 paste, two of her horses who suffered from the symptoms of ulcers were showing signs of improvement—one was eating noticeably more and one was sweating more normally.
Olszewski expects ETA horses and HHH children to get along well and help one another heal. "Horses are feeling detectors," she said. "They can sense when a person is not being open and honest, and that encourages kids to share what's bothering them. It helps them open up and heal their pain." Experienced HHH volunteers assure the children stay physically safe while working with the horses, and the organization is planning to bring on board certified counselors to assist with the one-of-a-kind program in the near future.
"It's amazing to me that the missions of these two organizations are so parallel," said Siegel. "The horses of ETA are going through the stress of career and life changes and the children of HHH also are working to overcome the stress of negative family situations. These are perfect charities to associate with GastroMax3 oral paste, because the product prevents equine gastric ulcers, one of the most common ailments affecting race horses.
Mangini said, "We are excited to be able to offer this opportunity for equine not-for-profits, and I'm proud of Jodi for throwing in some of her own money to sweeten the pot for our first two participants. It just goes to show how dedicated our people are to the horses and this industry. Horse Gold has always been about horse health. Of course we make some profit on the sales of GastroMax3, however we are exceptionally proud of the fact that our sales model focuses on horses more than money, and these organizations will benefit. On top of that, Equine Gastric Ulcer Syndrome (EGUS) is such a widespread problem, and this gives us a way to really make a dent in the problem." Horse Gold requires all resellers to adhere to a strict pricing structure that keeps the price low: $21.95 MSRP per syringe with a light discount for purchases of seven or more.
In addition to his role at Horse Gold, Mangini owns a Florida racing stable and manages a farm. He formulated GastroMax3 oral paste to prevent debilitating equine ulcers using omeprazole, a protein pump inhibitor that blocks the production of acid, plus two supplemental ingredients specifically formulated to magnify omeprazole's effectiveness. 
Siegel, a successful businesswoman from New York recently joined Horse Gold. She met Mangini while working for Croghan & Webster Racing Stables, where she worked with horses who have been injured or ill, or who are recovering from surgery. "I witnessed firsthand the devastating effects of ulcers on horses, so joining Mangini's team was an easy decision. Spending time with Liz and hearing how her program helps these children suggested a wonderful opportunity to combine our efforts."
Florida feed and tack stores participating in the program initially include: County Line Feed and Supply, Boynton Beach, Red Barn Feed and Supply, Loxahatchee, Hole in The Wall, Delray Beach, and Grand Prix Feed and Supplies, Wellington, Florida. If your local feed and tack store does not participate, ask them to contact Jodi Siegel at 732-801-1671 or jodirsiegel(at)yahoo(dot)com.
Mangini and Horse Gold are strong supporters of the Thoroughbred Retirement Foundation (TRF), the Standardbred Retirement Fund (SRF) and many other equine charities. Jerry Glantz, the company's marketing director also regularly supports both equine charities and non-equine charities, including St. Jude Children's Research Hospital.
GastroMax3 is sold by a growing list of equine suppliers including Pat Ziemer's MagnaWave Products and Services with 50 representatives serving the equine industry around the U.S. Contact Jodi Siegel to reach a Horse Gold rep covering your area, or look for GastroMax3 paste at any of a growing list of feed and tack shops now carrying the product.
ABOUT HORSE GOLD INC.
In 2010, Horse Gold was launched by a group of expert horsemen. Scott Mangini, PharmD, developed GastroMax3™ oral paste to address the widespread problem of equine gastric ulcers in race and performance horses. The company provides affordable, effective supplements for standardbred and thoroughbred trainers and horse owners. Horse Gold's priorities are the horse's health and the customer's satisfaction. To learn more about Horse Gold and its flagship product, GastroMax3 equine oral ulcer prevention paste -- by horsemen for horsemen, visit http://www.HorseGold.com.
###