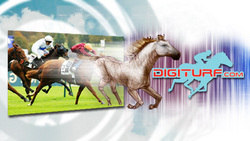 (PRWEB) March 25, 2009
The wealthiest man in the world of virtual horse racing made history in early 2009, when his skill and strategy applied at Digiturf.com paid off to make him the first bona fide millionaire in both the real and digital world of the Sport of Kings. Yet, while it may seem to the uninitiated that the world's latest dotcom millionaire made his fortune at the click of a mouse, anyone who has played Digiturf.com's virtual horse racing game will confirm that it is anything but child's play.
The millionaire, identified by his Digiturf.com stable name, PillButt, has been a leading figure within the global virtual horse racing community since he first started racing his horses at Digiturf.com in 2001. He increased his stable's profits considerably through shrewd online racing strategies, buying and re-selling virtual horses to other players around the world, and winning 33 prestigious Digiturf.com Championship race titles.
While it is not unusual for top players in the virtual sports industry to post incredible earnings, PillButt is the first self-made millionaire in the world of virtual horse racing.
Digiturf.com was the first skill-based virtual horse racing game launched on the web, and went on to establish virtual horse racing as a global phenomenon. Part of the appeal is that virtual horse racing at Digiturf.com affords players the opportunity to own, train, and race their horses against other players from around the globe for real prize money - as well as buy and sell their virtual horses through auctions and claiming races. However, Digiturf.com's masterstroke was developing an exclusive photo-realistic 3D animated race viewer which displays the exciting races in real-time.
The realism with which the game simulates real horse racing captures the imagination of participants, generating the kind of enthusiasm that racehorse owners have experienced for years.
Even if you're not ready to give up your day job, PillButt's success proves there is real money to be made in racing horses in a virtual world.
###