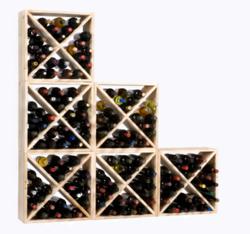 We get to see the "spark" come back into their eyes as well as the smiles on their faces
Olympia, WA (PRWEB) September 29, 2012
Wine Rack Store's Headquarters are located less than 20 miles south from Joint Base Lewis-McCord, an active duty army and air force instillation in Lakewood, Washington.
Because of the proximity of the base to the office, Wine Rack Store is surrounded by military presence and understands the need to show support. "Military personal and their families make up a huge percentage of our community, they make sacrifices every day for us and we want to show our appreciation for all that they do," said Wine Rack Store President, Michael Kitson.
Over the years, the wine rack and wine cellar retailer has reached out to the service members in many ways, including job offerings to vets and military families as well as donations to the USO through sales of Mighty Military themed wine charms over the holiday. Recently they have come across another way to help those who serve.
Rainier Therapeutic Riding, located in Yelm, Washington, is a facility dedicated to helping wounded warriors though use of horse therapy. Through training and bonding with the animals, their goal is to help soldiers dealing with a host of physical and emotional injuries, find peace.
According to their website, "These soldiers come to us from a very dark mental place, and the relationship they build with "their" horse leads them back to a joy for living. We get to see the "spark" come back into their eyes as well as the smiles on their faces."
In order to raise funds for their organization, twhich operates at no cost to the participates, RTR is holding it's first ever dinner auction on October 25th in Tacoma, Washington. The Wine Rack Store donated a 40 bottle wine cube for the event.
"Events like this we hope to become a part of year after year," said WRS Communications Director, Heather Hoskins.
Owned by Michael and Denise Kitson, Wine Rack Store has been selling quality pre-made and custom built wine racks, wine cellars and wine accessories since 1995. WineRackStore.com is A+ rated from the Better Business Bureau. All products are locally crafted in Olympia, WA and are shipped free anywhere in the contiguous United States.