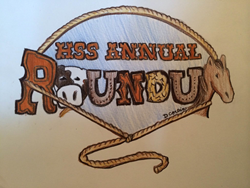 Through our annual Round-Up, we help people learn about the services Horse Sense & Sensitivity provides to special needs children and adults throughout the Jacksonville area. --Jennifer Yudow, therapeutic riding instructor
Jacksonville, FL (PRWEB) October 30, 2014
Horse Sense & Sensitivity (HSS), a 501c3 non-profit offering therapeutic horseback riding to special needs individuals in the Jacksonville area, will be holding its Second Annual Round-Up on Saturday, November 15 from 10-2:00 p.m. at Bailey's Farm (2202 Bishop Estates Road). This family fun event is open to the public and is designed to raise awareness and funds to support HSS programs.
Admission to the HSS Round-Up is free. Ticket purchases will be required for certain activities including pony rides, hay rides, cake walk, face painting and raffle baskets. Most activities will cost between $1-3.
"Through our annual Round-Up, we help people learn about the services Horse Sense & Sensitivity provides to special needs children and adults throughout the Jacksonville area," explained Jennifer Yudow, therapeutic riding instructor. "The fundraiser also helps build a scholarship fund for those who cannot afford the services offered, in addition to providing much needed equipment for both the horses and riders."
HSS offers therapeutic riding programs and equine assisted activities to children and adults with physical, mental and emotional challenges. Participants face a variety of individual challenges including autism, Down's Syndrome, physical and mental developmental delays, anxiety and shyness.
To RSVP or find out more about the Round-Up, please visit http://www.HorseSenseJax.org or find them on Facebook, Horse Sense & Sensitivity.
About Horse Sense & Sensitivity
HSS serves anyone who may be helped to overcome a physical, mental or emotional challenge through equine assisted therapeutic riding and activities. Instructors are trained in therapeutic riding methods that meet the needs of each individual participant. Customized programs include a variety of activities, exercises and games on horseback. Riders work to strengthen muscles, improve balance and coordination, learn to follow instructions, increase ability to focus and improve communication skills. Developing emotional connections to the horses, instructors and other volunteers also provides an additional therapeutic dimension to the program. Learning to ride a horse increases riders' feelings of specialness and helps them gain confidence and independence. HSS is almost completely run by volunteers who groom and tack horses to get them ready for classes, serve as horse handlers and side-walkers to ensure the safety of riders. All volunteers are required to complete a comprehensive training class before assisting with the program.