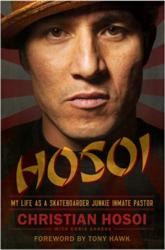 I had faith that [Hosoi] would come out the other side with style, and return to the sport that came to define both of us. He has since done that and more, and we are lucky to have him back. – Tony Hawk, from the Foreword
San Francisco, CA (PRWEB) June 12, 2012
"They called him Christ and his legions of disciples would follow him anywhere."
So begins the incredible story of Christian Hosoi, one of the world's top athletes during the 1980s, a skateboarding icon ranked amongst the likes of Tony Hawk, Jay Adams, and Tony Alva. Known for his rock-star flair, and celebrated as the best vertical and aerial skateboarder in the world, Christian was at the top of his game—until a crippling drug addiction brought him crashing down.
In HOSOI: My Life as a Skateboarder Junkie Inmate Pastor (HarperOne; June 2012), the skateboarding legend lays it all bare—growing up amidst the burgeoning "sidewalk surfing" culture at the Marina Del Rey Skatepark, a meteoric rise to fame as a teenager, becoming the highest paid skateboarder of his time, enjoying the drug-fueled celebrity lifestyle, and the arrest that led to a new reality, behind bars.
In 2000, Christian had already endured years out of the spotlight, struggling with a growing drug addiction, when he was arrested and convicted for interstate drug trafficking. Mulling a devastating ten-year sentence, he made a life-changing phone call to his now-wife Jennifer. She guided him toward Christianity—the faith which sustained him in prison—and she welcomed him into his new life when he was released nearly five years later.
HOSOI chronicles the rise, fall, and return of a legend. From his early days of skateboarding celebrity to his time as an inmate to his resurgence on the skating scene, Christian's story is not only a tell-all about fame, fortune, and failure—it's also a testimony to the power of faith and the gift of change.
About the Author
Christian Hosoi is widely recognized as one of the greatest skateboarders of his generation. A professional by 13, he went on to win many skateboarding awards and receive widespread acclaim. After serving time in prison for drug possession, he committed his life to Christianity. Since then, he has risen to prominent in the skateboarding world once again, winning the 2009 and 2010 X-Games Legends Competition. Hosoi is now the associate pastor at The Sanctuary, which describes itself as "the raddest church" in Huntington Beach, and lives in Southern California with his wife and four sons.
Praise for Christian Hosoi
"Christian was my biggest competition and when he was on fire, he was unbeatable."
– Tony Hawk
"Christian skated the way you're supposed to skate."
– Steve Caballero
"My all-time favorite skater."
– Jay Adams
"Skateboarding is a monster nobody can control, but Christian was one of the few skaters that forever changed the way people skate."
– Grant Brittain, famed photographer
HOSOI
My Life as Skateboarder Junkie Inmate Pastor
By Christian Hosoi
HarperOne, an Imprint of HarperCollinsPublishers
June 2012 | $26.99 | Hardcover| ISBN: 9780062024305
# # #