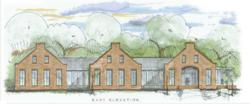 Savannah, GA (PRWEB) May 14, 2013
Community supporters are warmly invited to the groundbreaking of Hospice Savannah's new Center for Living at 1 p.m. on Monday, June 10 at 6000 Business Center Drive, just off Chatham Parkway.
Hospice Savannah's volunteer boards and staff leadership have a rich legacy of helping the community: 34 years ago they brought hospice care into homes; 21 years ago they built Hospice House for those who needed more intensive symptom management; 15 years ago they began community-wide grief and loss programming through Full Circle; 12 years ago they expanded Hospice House; and 11 years ago began providing palliative care support through The Steward Center for Palliative Care.
During the "silent phase" of a two-year, $3 million capital campaign, the Hospice Savannah Foundation engaged community supporters and philanthropists, Hospice Savannah board members and leadership, and Hospice Savannah employees and volunteers. Megan Kerley, Vice President, Hospice Savannah Foundation, is excited to now invite community participation in the campaign as ground is broken on June 10th.
Ms. Kerley explains, "There are four components to the carefully designed Center for Living: the Edel Caregiver Institute to provide caregivers with what will become one of the country's finest sources for information, training and support. Second: expanded Full Circle bereavement programming. Third: extensive education programming for medical professionals, community volunteers, healthcare workers and professional caregivers. Finally: a relocated Steward Center for Palliative Care to allow it to more effectively grow its services in our community."
For more information, please contact the Foundation at 912-629-1055 or visit http://www.HospiceSavannah.org/The-Center-for-Living.
<br>About the company:<br>
A designated agency of the United Way of the Coastal Empire, not-for-profit Hospice Savannah, Inc. is the oldest and most recognized hospice in the Coastal Empire serving over 200 patients every day in Chatham, Bryan, Effingham, Liberty and Long counties. More information can be found at http://www.HospiceSavannahHelps.org.
Hospice Savannah, Inc., a not-for-profit organization, provides the community with the best services and resources on living with a life limiting illness, dying, death, grief and loss.
Hospice Savannah, Inc. offers care for the dying, end of life care, home health care, hospice health care, in-home care, and more. Medicare, Medicaid and most private insurance will cover Hospice Savannah's care; however, care is provided regardless of ability to pay. To start the process of receiving hospice care from Hospice Savannah at home, simply call the referral center at 912-355-2289.