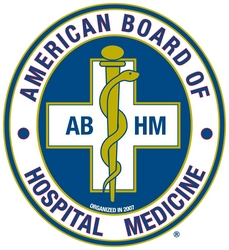 Kate's experience and expertise in healthcare quality qualifies her to represent the wide range of perspectives which members of the general public have
Tampa, FL (Vocus) May 13, 2010
The American Board of Hospital Medicine (ABHM), North America's first physician specialty board of certification in hospital medicine, today announced the appointment of Kate Conklin, CPMSM, CPCS, as its public board member.
Conklin is a recognized leader in healthcare quality with medical staff organizations. Currently Vice President for Medical Staff Services with the Medical Center of Lewisville, Texas, Conklin's career experience spans 20 years in roles at hospitals in Illinois, Wisconsin, and Texas.
"Kate's experience and expertise in healthcare quality qualifies her to represent the wide range of perspectives which members of the general public have," said Dr. Thomas G. Pelz, chairman of ABHM. "She will provide an added dimension to board certification review and planning, different from that of scientific experts."
Conklin is active with the National Association of Medical Staff Services (NAMSS), serving as President elect for 2010. She is also a member of the National Association for Healthcare Quality and the Wisconsin Association of Medical Staff Services.
ABHM, a Member Board of the American Board of Physician Specialties (ABPS), was founded in 2009. ABPS is the official certifying body of the American Association of Physician Specialists, Inc. (AAPS), a not-for-profit organization with headquarters in Tampa, Florida.
For more information about the American Board of Hospital Medicine, please visit http://www.abhm.us or http://www.abpsus.org.
###