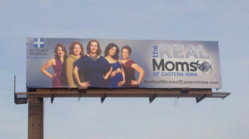 "Every mom, whether she is a first-timer or not, has questions at one point or another," said Laura Rainey, St. Luke's Marketing Communications director. "This is a place where women can follow the stories of our featured moms and get advice."
Cambridge, MA (PRWEB) March 11, 2012
St. Luke's Hospital in Cedar Rapids, Iowa and MedTouch, the leading provider of web strategy and online solutions for healthcare, together announce the launch of an interactive patient resource. From the bump (pregnancy), to the nest (infants), and beyond (parenting), The Real Moms of Eastern Iowa blog, therealmomsofeasterniowa.com, strives to give healthy parenting tips to patients straight from the source: real moms. The St. Luke's Hospital staff came up with the idea, recruited local bloggers, and set to flush out a promotion strategy; MedTouch was tapped to design and develop an engaging user experience for the blog.
The first of its kind in Cedar Rapids, The Real Moms of Eastern Iowa follows the day-to-day experiences of five Eastern Iowa women and covers anything and everything relating to motherhood.
Focusing on the trials and tribulations of being a new parent - be it a first-timer or a mommy with a newborn and other kids at home, discussion topics include everything from learning you're expecting to sleepless nights and all the moments in between. Real moms in the community can also share their stories, exchange information and provide support to each other.
"Every mom, whether she is a first-timer or not, has questions at one point or another," said Laura Rainey, St. Luke's Marketing Communications director. "This is a place where women can follow the stories of our five featured moms, as well as ask questions, get advice and share their own experiences." It's a great way for the community to interact and learn."
In a conservative industry, St. Luke's is pushing the envelope of what a mommy blog can be. Not only is the statement loud, but it is also being heavily promoted outside hospital walls. The real moms are now featured around the metro area billboards, direct mail campaign using CRM and other promotional materials.
Luckily for St. Luke's, community feedback was instant; through the blog's Facebook integration, St. Luke's can see the comments and social reach, which earned quite a few posts with up to 10 comments overnight.
The results, after one day:
•767 Visits to the site
•684 from Facebook alone, demonstrating the value of the comments integration
•Over 1/3 of the Facebook visits were on a mobile device browsing the site
•Visits from 39 different states
•Visits from 5 countries
•Indexed in both Google and Bing already
The results, after one week:
•2,643 unique visitors
•12,376 total page views
•705 YouTube video views
•Facebook Integration - Brought over 100 comments to the blog and 56% visits were Facebook referrals
•Mobile – Nearly 1/3 of all traffic came from mobile devices
The Real Moms is also uniquely presented, as each mom authors their own blog, which through sophisticated tagging and categorization on the back-end, allows them to "contribute" to topics. While the blog is featuring the real moms, it also presents an opportunity for St. Luke's to highlight its birthcare and NICU services in the right-hand column, tying back to the hospital website, where visitors can get expert medical advice and information. The footer provides the opportunity to further opt-in to parenting content via the weekly eNewsletter and by subscribing to any of St. Luke's social channels.
St. Luke's Marketing Communications staff ensures topics are appropriate for the blog and corrects grammar mistakes but hospital officials do not edit content.
•To follow the blog visit therealmomsofeasterniowa.com. For more information about St. Luke's, visit stlukescr.org.
•To see local news coverage, please visit: Kgan.com and The Gazette
•To view a video featuring the bloggers and their children visit: http://youtu.be/aWcIAVB6JkU.
About St. Luke's Hospital
St. Luke's is a fully accredited 532-bed hospital serving a five-county area surrounding Cedar Rapids, Iowa. Founded in 1884 as Cedar Rapids' first hospital, today it offers a wide range of patient care services with strengths in cardiac care, obstetrics, neonatology, pediatrics, rehabilitation, behavioral health, general surgery, trauma care and senior services. St. Luke's Hospital is nationally recognized as a Top 100 and Magnet Hospital.
About MedTouch
For the last eight years, MedTouch has focused exclusively on helping healthcare organizations succeed online. By combining interactive marketing strategy with creative and technical excellence, MedTouch ensures its clients achieve specific, measurable and memorable results. Those clients include dozens of nationally-ranked academic medical centers, community hospitals, rehabilitation facilities, health plans and healthcare-related not-for-profits in more than twenty states. From consumer-focused websites to patient-centric social media and mobile channels, online physician recruitment programs to results-driven search marketing, CRM integration to enhancing patient portals, MedTouch makes healthcare interactive.
Headquarters:
84 Sherman Street
Cambridge, MA 02140
866-638-6824
Media contact: Sarah Corizzo, St. Luke's Hospital 319/369-8372 or 319/560-2385.