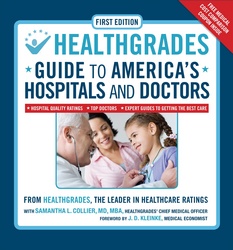 There can be enormous quality differences from one hospital to another, and one doctor to another, and this guide will point readers to the best care, wherever they live
GOLDEN, Colo. (PRWEB) June 2, 2008
Published by Sterling Publishing, the new 1,100-page reference guide from the leading healthcare ratings company puts into patients' hands, for the first time ever:
Hospital-quality ratings. For virtually every hospital in the country, star ratings to compare local hospitals for bypass surgery, knee replacement, births and dozens of other procedures and treatments, as well as patient safety; Top doctors. Lists of top doctors from across the country that perform procedures at the nation's top-rated hospitals; and Getting the best care. Chapters from HealthGrades' Chief Medical Officer on finding the best doctor and hospital and protecting yourself from medical errors. "There can be enormous quality differences from one hospital to another, and one doctor to another, and this guide will point readers to the best care, wherever they live," says Dr. Samantha Collier, HealthGrades' chief medical officer and the primary author of the book. "Some of the most important medical questions you could ever ask are answered in this book. Questions like, 'How should I decide which local doctor to choose?' 'Which local hospital has the best outcomes for hip replacement surgery?' 'How do I avoid medical errors when I'm in the hospital?' This books provides answers – based on hard evidence – so that readers can obtain the best care possible."
HealthGrades rates the quality of care at the nation's hospitals based on objective patient outcomes, the mortality and complication rates that each hospital reports to the Federal government. HealthGrades studies have found that mortality rates, on average, are 70% lower at top-rated hospitals.
The listing of top doctors in the HealthGrades book represents the first time that top doctors have been selected and published based on objective patient outcomes of patients at their hospitals. This stands in contrast to the "top doctors" lists based on subjective reputational surveys found in many city magazines.
Chapters from Dr. Samantha Collier, a nationally known expert on hospital quality and patient safety, contains insider advice on:
How to find the best doctor How to choose the best hospital How to avoid medical errors Preparing for a hospital stay Specific questions to ask about an upcoming procedure Dr. Collier's straightforward, hard hitting advice arms readers with tips, tools and questions to ensure they get the best care. For example, she recommends asking your doctor whether they are ever scared. (The right answer? Yes.) She tells readers when it's time to break up with your doctor and debunks some of the medical myths like whether older doctors are better, and whether patients should ask their doctors to wash their hands.
With the same authoritative voice, Dr. Collier guides readers through choosing a hospital and protecting themselves – and their loved ones – from medical errors. Her top 10 list on avoiding medical mistakes should be required reading for anyone who expects to be in a hospital some day. A recent study from HealthGrades found that approximately one-quarter million potentially preventable patient deaths occurred in the nation's hospitals over the years 2004-2006.
About HealthGrades
Known for its industry-standard hospital ratings and public Web site, http://www.healthgrades.com, HealthGrades has been rating hospitals and other healthcare providers for 10 years. More than five million individuals visit HealthGrades.com each month to research the quality and cost of the nation's hospitals, doctors and nursing homes.
Health Grades, Inc. (Nasdaq: HGRD) is the leading healthcare ratings organization, providing ratings and profiles of hospitals, nursing homes, physicians and prescription drugs. Millions of consumers and many of the nation's largest employers, health plans and hospitals rely on HealthGrades' independent ratings, advisory services and decision-support resources to make healthcare decisions based on the quality and cost of care. More information on the company can be found at http://www.healthgrades.com.
MULTIMEDIA GALLERY http://www.businesswire.com/cgi-bin/mmg.cgi?eid=5698269