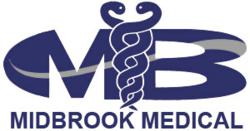 Jackson, Michigan (Vocus/PRWEB) February 26, 2011
Midbrook Medical, the Jackson, Michigan, based manufacturer of custom fabricated medical equipment and medical decontamination systems recently worked with a local hospital to design and produce custom dry erase boards for use in healthcare facilities. Midbrook Medical was able to work with the hospital to develop, manufacture and deliver dry erase boards that were specifically tailored for use in their facility.
This particular hospital needed to obtain some new dry erase boards for patient rooms, but wanted them to be custom designed for their purposes. With dry erase boards used in this capacity, hospitals often use plain white boards and simply draw on lines to separate different sections. These dividing lines can be easily erased over the course of a day, which becomes a large problem in some situations. Markings that are intended to stay on the board permanently can also be erased, forcing staff to rewrite them on a regular basis. The end result is a board that becomes messy and confusing over time.
To solve this problem, the hospital came up with an idea for a custom designed board that would have certain markings masked onto the board itself that could not be erased. They approached Midbrook Medical to help, as they had worked with them on several projects previously. Midbrook Medical had the dry erase boards manufactured to fit the customer's design, working with them to improve it and change it as necessary. Midbrook was then able to ensure the boards were correct and of high quality before sending them on to the hospital.
Midbrook Medical can help design and manufacture dry erase boards for a range of different applications within a hospital. From the small boards used in patient care rooms to the larger, more complicated boards found in other areas of healthcare facilities, Midbrook can help design and manufacture boards that will remain clean and uncluttered throughout their time of use. The permanent markings on the board make it simple for nurses to erase and change information without fear of accidentally removing something they did not intend to. The time saved fixing mistakes on the whiteboards can then be spent on the vital patient care tasks they were trained to perform.
For more information about Midbrook Medical and custom designed dry erase boards, visit http://www.midbrookmedical.com, or call 1-517-787-3481.
Midbrook Medical is the minority owned, women owned, Michigan based solution provider to the Healthcare market. Midbrook is not a medical company looking to be a copy cat distributer of decontamination equipment. Rather, Midbrook is the world leader in custom designed, process specific cleaning equipment focused on taking the expertise learned in other industries and applying it effectively to issues within the medical industry in order to provide cleaner instruments that will, in turn, make sterilization more effective.
###