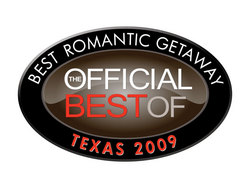 Online Reviews of Hotels and Restaurants Flourish
Arlington, TX (PRWEB) March 26, 2009
The Sanford House of Arlington, Texas, has just received the Official "Best Romantic Getaway in Texas" designation in the State of Texas.
The Sanford House selection for this award was based on the incredibly positive reviews from guests who make nominations on the Official Best of Texas travel website and on-line ratings found on sites such as Yahoo Travel, The Innkeeper, Bed & Breakfast Inns, Best Romantic Inn, Lanier Travel, and Trip Advisor. The Sanford House will be featured on a 30 minute television special, the Official Best of Texas-2009, which airs on Saturday, April 25th at 1:00 pm on NBC KXAS channel 5 in Dallas/Ft. Worth.
The "Official Best Of" solicits nominations for the Official Best Of website after they have searched online travel resources to determine which nominees will be named "best of." No attraction can contact them for inclusion. The selection process is rigorous with extensive research that requires positive reviews from a minimum of three independent sources. Their website receives over 75,000 visitors a month and traffic on our website surges after each TV airing of a new state.
On January 22, the New York Times published an article entitled "Online Reviews of Hotels and Restaurants Flourish" about the rising importance of online sites that filter through thousands of restaurant, hotel and attraction reviews. These sites condense this information into organized categories. The "Official Best of" has one important distinction: it is the only site with video segments about each of the award-winning attractions selected as the best in each state. The television program and website will feature twelve Texas attractions, each in a different best of category.
The "Official Best of" is a division of Media World USA, an independent television and internet company that started in 1993. Since 2004, the "Official Best of" has provided TV and web viewers with the official best places to visit in each featured state. They began in Missouri and have featured the best of Missouri, Oklahoma, Minnesota, Arizona, New Mexico, Utah, Texas, Florida, Michigan, North Carolina, Ohio and Massachusetts.
###