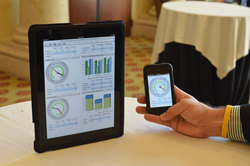 Boca Raton, FL (PRWEB) February 7, 2011
The HADA Group, a business consulting firm specialized in delivering integrated business and technology solutions to the hospitality industry, announced today its plan to release their first version of their Hospitality Operational Business Intelligence (HOBI) application using DSPanel's Performance Canvas technology, leveraging particularly DSPanel's unique mobile analytics server.
Horacio Agostinelli, President and Managing Director of The HADA Group, has this to say, "Our decision to select Performance Canvas as a key component of the underlying technology platform for our first release of HOBI was based both on our own evaluation of the different mobile BI platforms available, as well as the alignment between DSPanel's long term vision for Business Intelligence solutions within the Enterprise Performance Management arena."
Horacio continues, "As a result of this decision, we established a great partnership with DSPanel and have been working very close with them to incorporate additional features into their technology platform, while creating a great solution for the hospitality industry. Because Performance Canvas is such a great technology and a very flexible product, we are able to provide key executives in the hospitality industry access to their Key Performance Indicators (KPIs) associated to their hotel, resort and/or restaurant operations. This access can be achieved either from their own desktops, or directly from their portable devices such as Apple's iPads, iPhone, or any intelligent phones that allow access to web based applications. By using this application, executives also have the ability to create, modify and share interactive, real-time visual queries and dashboards wherever they are. Utilizing the iPad's touch-based interface, users can drop, rotate, expand and collapse their visualizations, allowing users to truly interact with their data."
Jan Morath, CEO at DSPanel, had this to say, "With this strategic partnership we will be able to extend our technology into a new vertical market and provide the hospitality industry with the gold standard of BI software. Partnering with The HADA group enables us to extend our reach and we could not have picked a better partner. With their years of experience and ability to take our technology and shape it to fit the hospitality industry's needs for great BI tools, we are excited about what we can do for the hospitality industry in the coming years, together."
If you would like to learn more about Performance Canvas and the Performance Canvas Mobile Server for the hospitality industry, visit DSPanel at http://www.dspanel.com/solutions/hospitality-solution/.
If you would like to learn more about Business Intelligence in the hospitality industry and how your organization can leverage these tools, visit The HADA Group at http://www.thehadagroup.com.
About DSPanel:
DSPanel is at the forefront of business analytics, intelligence and visualization technology. We began with the simple premise that Business Intelligence can and should be available to all business users, no matter what their size. Starting there, Performance Canvas was created as an information synthesis solution for 21st century businesses. Performance Canvas enables users to make faster, smarter decisions utilizing its powerful yet easy-to-use software suite. With its agile deployment and design capabilities, Performance Canvas can be deployed with one of the smallest time-to-values in the industry. DSPanel has more than 1500 organizations deploying our solutions across the globe. For further information please visit http://www.DSPanel.com.
About The HADA Group:
The HADA Group is a business management, operations and technology consulting firm focused on providing modern and efficient solutions to mid and large size companies, especially, but not limited to, in the Hospitality and Entertainment industry. With strong background and credited experience in providing solutions also to Distributors, Construction Management companies, Manufacturers, and Retailers, our integrated back-office and front-office solutions to Hospitality and Entertainment industry customers provide multi-site and/or multi-national hotel and/or restaurant chains, and their corresponding management companies, effective solutions that integrate their supply chain processes, to their financial and accounting areas, and to their front-of-the-house operations, wrapped with industry specific operational Business Intelligence . For further information please visit TheHADAGroup.com
# # #