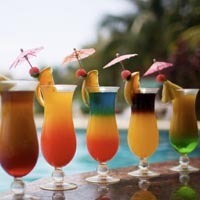 Our site invites students and professionals working in hospitality to share their adventures, anecdotes, and stories with others in the industry that may understand and appreciate them most
San Diego, CA (PRWEB) August 29, 2007
Guests have plenty of sites for comments and reviews; InnHospitality welcomes comments and reviews from hospitality insiders. Who knows more about the realities of the Hospitality Industry than the people behind the scenes? "Our site invites students and professionals working in hospitality to share their adventures, anecdotes, and stories with others in the industry that may understand and appreciate them most", said Leslie Tindiglia of InnHospitality.com
Students in all areas of hospitality - culinary, hotels, restaurants, spas, etc. - are encouraged to join InnHospitality to meet like-minded students from their own and other hospitality schools. Education is just one of the many topics they can discuss in the forum, in a group, in private messages, or in a chat room. New friendships could be made that may help with future business and/or personal relations. Isn't that what networking is all about?
On a professional note, InnHospitality could help with hospitality careers. Site members will be able to search employment classifieds in all areas of hospitality. It also may be possible, through social networking, for folks to meet someone who could lead them to their dream job or location.
For employers, InnHospitality classifieds are ideal, and currently free of charge. Jobs can be posted on a website developed especially for hospitality students and professionals. Talk about reaching your target market!
InnHospitality is the one website where students and professionals in the hospitality industry can combine all things hospitality. So if you're in hospitality, join innhospitality.com. We are the center of hospitality.
About InnHospitality.Com
InnHospitality.com is the first social networking website created especially for hospitality students and industry professionals. The website features an interactive forum, blog, chat, groups, events, private messaging, classifieds, and opportunities for networking by like minded individuals in the Hospitality Industry . For more information please visit http://www.innhospitality.com We are the center of hospitality.
For more information:
Bill McRea, Business Development
(619) 241-1132
###