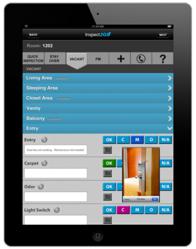 Inspect Quality, Save Inspections to the Cloud, then Run Performance Reports to Compare Locations and Employees Over Time
Los Angeles, CA (PRWEB) April 30, 2012
Inspect2GO is developing a new suite of database software and mobile applications to serve the hospitality industry. The apps automate inspection processes and track performance of workers and locations. Examples include hotel housekeeping inspection applications (stay over and vacancy), preventative maintenance inspection checklists, custodial/cleaning apps and cruise ship cabin inspections.
Applications are not sold in the app stores. Instead, join our May 2012 Beta Sites Program to receive discounts (http://www.inspect2go.com/hospitality)
MOBILE APPLICATIONS
Housekeeping App
-Hotel room/Suite cleaning inspection checklist applications on iPhone/iPad
-Hotel room housekeeping attendant quality/productivity/performance tracking (by guestroom, individual, hotel…) via web software
-Cruise ship cabin inspection on iPhone/iPad, cleaning, maintenance checklists, restaurant inspection
Maintenance App
-Facility maintenance inspection, QA/QC
-Automated reporting of maintenance issues to engineering department (from mobile device)
-Custodian work inspection checklists on iPad
-Work order ticketing system
Food Safety App
-Restaurant, hotel and cruise ship kitchen food safety inspections and haccp iPad apps
-Health inspection self-audit applications on iPad, iPhone, Android
-Open/close, readiness checklists for restaurants
Custom – Custom app and software development for hotels, restaurants, cruise ships…
HOTEL HOUSEKEEPING/FACILITY MAINTENANCE
-Inspection - Hotel room/unit/suite quality (QA/QC) inspection software
-Housekeeping - Separate stay-over, vacancy/checkout inspection checklists on iPad, iPhone, Android
-Maintenance – Preventative Maintenance (PM), engineering and General Cleaning (GC) checklists apps
-Training – Extensive help sections and simple apps reduce training/Easy to use iPad software
-Language - English, Spanish, French/Very simple interface for none technical staff
-Room Inspection – Entry, living, sleeping, closet, bathroom/vanity, balcony and kitchen areas, with details such as carpet, furniture, lamps, linens…
REPORTING
-Cloud - All app data is sent to/stored in cloud servers upon completion of inspection
-Control Panel - Supervisors/Regional and Hotel Managers/General managers can access all data via web-based admin portal
-Tracking – Record/track by inspector, employee, suite no, time/date
-Scoring – Total score with weighted items
-Reporting – iPad Cloud Database Reports for inspection/quality score, cleaning issues, maintenance issues, housekeeper/attendant/employee performance, frequent issues, retraining needed, report by property, track employee by topic such as "Jill's average bathroom inspection score this year" for performance evaluations and training
CUSTOM
-Mobile - Custom mobile apps for data collection, walk through inspection and checklists on IPhone, iPad, iPod Touch and Android
-Web - Web based control panel development to view, analyze and graph data
-Database – Cloud server, SQL database storage of all data, setup per client specifications
-Reporting – Custom reporting of employee/staff performance and quality scores
-Charting – Custom charts and graphs to easily understand data
INDUSTRIES
-Lodging – Hotel, vacation rental, timeshare, luxury units, resorts
-Hotel management
-Property management
-Restaurants
-Cruise lines
-Trade shows
-Airline/Travel
-Parks
ABOUT INSPECT2GO
Inspect2Go is a mobile application, cloud database and software development company based in Southern California. The firm's mobile technology includes inspection checklists and apps with signature, photo, markup, custom reporting, pdf, scoring and database functions. The checklist apps are compatible with Apple iOS (iPhone, iPad) and Android. Inspection results are sent to Inspect2GO's cloud database for storage. Reports, graphs, trends and data feeds can be retrieved from the cloud.