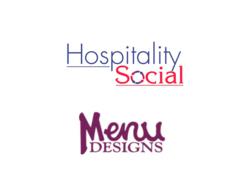 St. Augustine, FL/Naples, FL (PRWEB) May 21, 2011
Menu Designs the leader in menu covers in the hospitality industry and Hospitality Social, a new company launched today at the NRA Restaurant Show, today announced that they will work together to produce a product line of covers for hospitality venues moving from terminals to Apple Computer, Inc. iPads or Andriod tablets. This new product line will combine high tech functionality with restaurant charm and branding.
"We have heard from many customers moving to pads and tablets that the technology should enhance the guest experience, not make it too techy," said of Elliott Lavercombe of Menu Designs. "Based on the high adoption we expect to Hospitality Social, we think that this is a great collaboration to produce a product line that restaurants will love."
The relationship will provide for the following:
Collaboration between Hospitality Social customers and product line designers at Menu Designs
Menu Designs will be the exclusive supplier of covers to Hospitality Social
A wide array of ready to ship covers that can be custom branded in less than 24 hours
The ability for Hospitality Social customers to custom design their covers
Technology that takes into account new features such as the magnets in the iPad 2
"This is not just technology. It is an extension of the venue's brand," said Tanya Fox of Hospitality Social. "It is important that what the guest is using at the table extends the brand that restauranteurs work so hard to protect everyday. Menu Designs is a company with rich experience in doing just that."
For more information about Menu Designs go to http://www.menudesigns.com.
For more information about Hospitality Social go to http://www.hospitalitysocial.com.
About Menu Designs
Menu Designs was founded in 1980 and has grown to be one of America's largest manufacturers of presentation products for the restaurant and hospitality industry. In addition to having one of the most extensive offerings in the industry, Menu Designs specializes custom cover design and manufacturing utilizing turned edge, turned and stitched, flush stitched, heat seal and cut & seal construction methods.
About Hospitality Social
Hospitality Social is a new company that debuted on May 21st at the NRA Restaurant Show. Every day, billions of dollars are spent in the hospitality industry based on social networking. However, the landscape is changing, and the focus is moving from terminals to pads. By 2020, the number of interactive menus will outnumber paper, and that race has already begun. Interactive menus, combined with social media, unlock the door to new and increased revenue. Our company has that key: a winning strategy to ensure hospitality executives dominate in this new environment.
Contacts:
For Menu Design: Elliott Lavercombe, 800-889-6368
For Hospitality Social: Tanya Fox, tanya(dot)fox(at)hospitalitysocial(dot)com, 855-577-7555
# # #