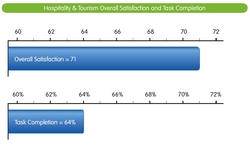 Brand loyalty among hospitality and tourism industries was hit hard this past quarter with site visitors demanding lower rates
Montreal (Vocus) April 6, 2010
iPerceptions Inc. (TSX-V: IPE), a leading provider of web-focused Voice of Customer analytics, recently released the Hospitality & Tourism Industry Report Q4 2009. The report analyzes post-experience feedback from more than 150,000 visitors on over 200 hospitality and tourism web sites to identify the most important issues and trends facing these industries. Online tourism and hospitality marketers will find valuable intelligence about the additional drivers that affect online booking decisions.
While cost sensitivity continues to play a leading role in reservation abandonment, the data suggests that site usability, functionality and technical hurdles are significant barriers to conversion. 29% of would-be bookers reported that they abandoned the booking process because of a usability problem with the booking engine or because of a technical or navigation issue.
Other key findings include:
Loyalty suffers as consumers focus on price:
The overall industry "Bottom Line" attribute, defined as helping the consumers save money, and "Starting Point", defined as top of mind brand consideration, were the lowest scoring attributes indicating that loyalty took a back seat while consumers expected and emphasized lower rates.
Business travelers reported lower satisfaction
While comprising the largest share of 'Bookers', Business travelers reported lower satisfaction rates than their Leisure counterparts. Hospitality and tourism online marketers could benefit from providing more relevant information for their business travelers.
"Brand loyalty among hospitality and tourism industries was hit hard this past quarter with site visitors demanding lower rates," said Claude Guay, CEO of iPerceptions. "However, our studies indicate that price is not the only factor in play. Brands can still compete by improving technical and navigational issues and by better meeting the needs of their business travelers — surely good news for marketers seeking motivation factors besides price."
Data contained in the Hospitality & Tourism Industry Report for Q4 2009 represents aggregated information obtained from iPerceptions' enterprise solution, webValidator™, and free 4Q studies deployed on the websites of leading hospitality brands. This industry-specific database aggregates data from more than 150,000 visitors. The full report can be found on the iPerceptions website at: http://www.iperceptions.com/hospitality
About the iPerceptions Satisfaction (iPSI) Index
The iPerceptions Satisfaction Index (iPSI) is derived from more than 85 million satisfaction and experience data points obtained from over six million individual website visitors in the context of their actual site visits. The iPSI covers over 30 verticals, including automotive, travel, and e-commerce. It features a perceptual framework to isolate and evaluate key elements of the visitor experience, along with predictive algorithms and modeling to uncover the attributes with the greatest impact on satisfaction. As a result, the iPSI delivers the clearest and most accurate understanding of the key issues impacting satisfaction, intent, task completion and customer loyalty.
iPerceptions is a leading web-focused Voice of Customer analytics provider. Its webValidator Continuous Listening solution, free website survey solution, 4Q, Web Analytics Solution Profiler (WASP) and proprietary iPerceptions Satisfaction Index (iPSI) turn thousands of data points into easy-to-understand strategic and tactical decision support for website marketers. iPerceptions' clients include such well-known brands as InterContinental Hotels, General Motors, Dell, Hyundai, LG Electronics, Choice Hotels International, BMW and Monster Worldwide. For more information, please visit our site at http://www.iperceptions.com.
Investor information
iPerceptions Inc
Claude Guay, President & Chief Executive Officer
514-488-3600
Fax: 514-484-2600
# # #