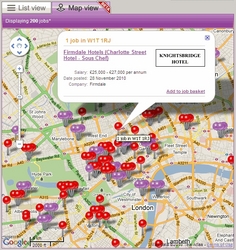 This will give jobseekers a much clearer view of job opportunities in a specific area and greatly enhance exposure of the recruiters job advert
(PRWEB) November 30, 2010
New visualised location and 'jobs on a map' functionality is benefiting jobseekers in the hospitality industry by enabling them to see local jobs displayed on a map rather than in the traditional list format.
Similarly advertisers on Caterer.com are benefiting from an uplift in job applications from more locally based candidates.
"Advertisers posting their jobs with a full postcode benefit from receiving their own unique job marked on the map. This will give jobseekers a much clearer view of job opportunities in a specific area and greatly enhance exposure of the recruiters job advert," said Caterer.com's marketing manager, Jonathan Hedger.
Caterer.com is the only hospitality recruitment website to offer this level of location accuracy and functionality using maps. The development is part of a series of enhancements that make finding hotel, restaurant, pub, bar and food service jobs in a specific area faster and more effective than ever before.
For more details of Caterer.com's new map functionality, click here.
# # #