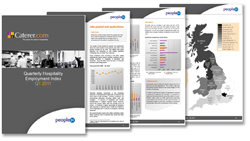 Rather than merely accepting that churn is part and parcel of the industry, many managers are putting interesting and engaging staff benefit programmes in place in a bid to boost staff retention.
London, UK (PRWEB UK) 28 November 2011
Hospitality businesses are capitalising on the economic downturn by recruiting from a broader labour pool than ever before to fill a record number of jobs, according to the third Hospitality Employment Index from Caterer.com and People 1st.
Yet the sector's growth could be hampered unless businesses consider new approaches towards engaging their staff before the UK's economy picks up. This quarter's report warns that whilst recruiting staff has become easier and labour turnover rates have fallen from 31 percent to 24 percent, low retention could affect the hospitality sector as the workforce becomes more mobile when the economy recovers.
"As the labour market becomes more fluid, staff retention and engagement will become critical to business success," said Brian Wisdom, chief executive of People 1st. "Businesses that want to maintain these improved retention levels will need to develop their own strategies to persuade their staff to stay longer in their roles. Now is the time for them to capitalise on this window of opportunity during the economic slowdown to recruit the best people and to keep them"
"It's very heartening to see that the hospitality industry continues to grow, especially as many of the vacancies we've seen advertised are for new roles," said Ian Burke, director of Caterer.com. "However, what impresses me is that, rather than merely accepting that churn is part and parcel of the industry, many managers are putting interesting and engaging staff benefit programmes in place in a bid to boost staff retention."
Furthermore, with less than 200 days to go to the 2012 London Olympic Games, now is the opportune time for businesses to build and retain a skilled workforce. This report highlights several key areas where businesses can improve employee engagement and better their staff retention:

Offer flexible hours
Improve employee involvement (consultations and appraisals)
Offer financial incentives
This quarter's Hospitality Employment Index, covering job vacancies and applications from July to September 2011, indicates that the industry is thriving compared to other sectors. The index provides a strong indication of the sector's overall economic health and analyses the job ads and applications on Caterer.com against a backdrop of the broad labour market trends across the industry.
Over 48,000 jobs ads were posted in the third quarter of 2011, the highest ever recorded by the Hospitality Employment Index, and up by a third on the same quarter in 2009. Whilst this can be partially explained by employers taking on short-term staff during the holiday period, figures throughout 2011 show an unprecedented rise and indicate that the sector is continually growing despite an economic slowdown in other parts of the economy.
Job applications reached over 830,000 signalling a new high and double the number of applications (50 percent increase) in the same quarter in 2009.
Compared to the third quarter of 2010, job vacancies for executive chefs soared by over three-quarters (87 percent), whilst bar management posts almost doubled. The demand for gastro-pub chefs who can conjure up refined classic dishes for customers has contributed to the 41 percent increase in jobs for head chefs.
Competition for hospitality jobs for lower skilled jobs is intensifying with 54 applications per job vacancy for waiting staff, followed closely by receptionists/concierges (53) and porters (50). Posts for highly skilled jobs such as pastry chefs, and sommeliers remained the hardest to fill with only five and ten applications per job ad respectively.
To get the full Hospitality Employment Index for July-September 2011 click here.
Notes to editors:

The hospitality industry is one of the UK's largest employers with around 1,860,000 workers – around 6% of all jobs across the UK. By 2017, the sector's workforce will have grown to 2.4m which includes an additional 49,700 skilled roles and an extra 246,300 managers.
A full report of the Hospitality Employment Index can be found on http://www.caterer.com/HEI
About People 1st (http://www.people1st.co.uk)
People 1st is the sector skills council for hospitality, passenger transport, travel and tourism focusing on transforming skills through the development of world class qualifications in management and leadership, customer service and craft skills.
About Caterer.com (http://www.caterer.com)
Established in 2001, Caterer.com has pioneered online recruitment for the hospitality industry. Working with hotels, restaurants, pubs, bars and food services companies across the UK, it helps small and large companies to improve their recruitment and retention processes.
Caterer.com is part of Totaljobs Group Ltd, the UK's largest and fastest growing online recruitment company, comprising 10 job board business, which between them carry over 220,000 jobs, and attract over 3 million jobseekers every month who generate 1.4 million applications.
Reed Business Information
Reed Business Information UK brings over 100 market leading brands to an audience of 30 million decision makers worldwide through its multi-platform media of web products, magazines, exhibitions, conferences and industry awards.
###