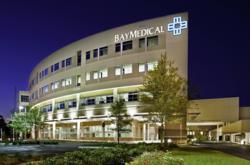 LHP is honored to partner with Sacred Heart Health System to collaborate on a plan that will allow Bay Medical to continue delivering the same high quality care the community has come to expect...
Panama City, FL (PRWEB) May 15, 2012
LHP Hospital Group, Inc. (LHP) announced that it has finalized a 40-year lease and asset purchase agreement with Sacred Heart Health System, Inc., that will create a hospital joint venture to lease and operate Bay Medical Center. The new hospital joint venture will allow Bay Medical to continue their charity care policy while moving forward debt-free.
"This agreement is the best solution for Bay Medical and we are excited to begin the transition,"
said Bay Medical President and CEO, Steve Johnson. "Not only will it allow us to preserve our roots as our community's hospital and as a provider of charity care, but it will allow us to move forward in a more financially stable position. Becoming part of Sacred Heart's Northwest Florida network gives us the advantage of increased purchasing power that will no doubt have a positive impact on our operations. In addition, the clinical integration of our facility with all network hospitals from Port St. Joe to Pensacola can only benefit patients across the region and enhance all that we offer."
Both Sacred Heart and LHP will be equally represented on the organization's governing board. The hospital joint venture will also collaborate with a local Board of Trustees made up of community leaders and physicians to oversee day-to-day operations. Current employees will also become affiliates of LHP.
"Sacred Heart is looking forward to working with LHP to serve the Bay County community," said Susan Davis, interim CEO of Sacred Heart Health System. "Both organizations are excited about embarking on the process of aligning our values with Bay Medical's mission and future plans in addition to working closely with their physicians and staff to provide quality care to our patients."
Dan Moen, LHP CEO, commented, "LHP is honored to partner with Sacred Heart Health System to collaborate on a plan that will allow Bay Medical to continue delivering the same high quality care the community has come to expect, while protecting the employees and making a commitment to the hospital's policy of providing charity care. Everyone involved – from the medical staff, the Board of Directors, the volunteers, and the employees - have all worked very hard to make Bay Medical a nationally recognized health care facility and we look forward to keeping with that tradition."
"Finding the right solution for all the citizens of Bay County was our highest priority," added Moen. The Board of Directors, the County Commissioners and the staff of Bay County have all worked tirelessly to see this through. We take the trust you have placed in us very seriously and together we will create an outstanding future for Bay Medical."
Area residents and patients will begin to notice new signs going up reflecting the affiliation. However, work towards the transition has already begun behind the scenes.
Adds Johnson, "Bay Medical has a long history of providing top rated quality care. As a first priority, we will implement improvements in the Emergency Department and work closely with physicians to develop a strategic business plan."
About Bay Medical Center
Bay Medical Center, a 323-bed regional referral center located in Panama City, Florida, has been recognized as one of the nation's top hospitals for clinical quality. Bay Medical has also been recognized by U.S. News & World Report as a best regional hospital and by NRC Ticker as the Consumer Choice Award winner for the Panama City area. With the opening of a new five-story patient care tower in 2010, Bay Medical is Bay County's newest hospital with more private rooms and five star quality care and amenities. Bay Medical is accredited by the Joint Commission as a Center of Excellence in the treatment of heart attack and stroke. In addition to the main hospital campus, Bay Medical has diagnostic and rehab facilities in Panama City Beach and in Lynn Haven, along with HealthPlex Fitness, a wellness facility.
About Sacred Heart Health System
Sacred Heart Health System is Northwest Florida's leading provider of high quality health care to children and adults. In 2011, Sacred Heart Hospital in Pensacola was named a recipient of the HealthGrades Distinguished Hospital Award. That award was based on an independent national study that ranked the hospital among the top 5 percent in the nation for superior patient outcomes. The hub of the Health System is its 466-bed hospital in Pensacola that includes the region's only Children's and Women's Hospital. Other key services include a Regional Heart and Vascular Institute, Stroke Center, Level II Trauma Center, a Cancer Center affiliated with M. D. Anderson Physicians Network, and a large regional network of primary care and specialty doctors stretching from Foley, Ala. to Panama City Beach, Fla. In 2003, the Health System opened Sacred Heart Hospital on the Emerald Coast, a 58-bed community hospital in Walton County. In March 2010, the new Sacred Heart Hospital on the Gulf, a 19-bed hospital, opened in Port St. Joe, Fla. Sacred Heart has approximately 4,500 employees and is part of Ascension Health, the nation's largest system of not-for-profit health care facilities. For more information, call 850-416-7000 or visit online at http://www.sacred-heart.org.
About LHP Hospital Group, Inc.
LHP Hospital Group, Inc. (LHP) is a privately held company established to provide essential capital and expertise to not-for-profit hospitals and hospital systems. In cooperation with local hospitals, LHP forms joint ventures to acquire, own, operate and manage acute care facilities in small cities and select urban markets throughout the United States. Headquartered in Plano, Texas, LHP is owned by affiliates of the private equity firm CCMP Capital Advisors, LLC and the CPP Investment Board as well as certain members of management and the board of directors. For more information, please go to http://www.lhphospitalgroup.com.
###