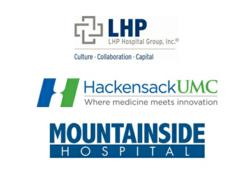 "The joint venture between LHP–HackensackUMC ensure that we will continue to build on Mountainside's legacy of excellent care for our community," said Franklyn Jenifer, Mountainside Hospital Board Chairman.
Montclair, NJ (PRWEB) February 28, 2012
LHP Hospital Group, Inc. (LHP) and Hackensack University Medical Center, announced that they have filed a Certificate of Need application with the New Jersey Department of Health and Senior Services Office of Certificate of Need and Healthcare Facility Licensure in order to complete a transfer of ownership of Mountainside Hospital in Montclair, NJ. Mountainside Hospital is currently owned by Merit Mountainside, LLC, a subsidiary of Kentucky-based private hospital management company Merit Health Systems, LLC. The application was filed on behalf of Montclair Health System, LLC, a hospital joint venture effort between LHP and HackensackUMC.
"LHP's previous track record proves that they are committed to working with physician teams, employees and the local community to deliver exceptional health care," said Mountainside President and CEO John Fromhold. "In conjunction with its local partner, HackensackUMC, we are pleased that we have found an organization that will operate and manage Mountainside with the same hospital-wide commitment for quality service and dedication to future growth."
"LHP is honored to enter into a joint venture with a hospital that has served Montclair, Glen Ridge and surrounding communities for over 120 years," commented LHP CEO Dan Moen. "Mountainside has gained the reputation of being one of the premier hospitals in New Jersey. With an outstanding record of providing quality patient care and safety, we are optimistic about what Mountainside can bring to our organization and what resources we can share with their patients. Together, we will build on the momentum and success that the hospital already enjoys."
Dr. Konstantin Walmsley, Mountainside Hospital's Medical Staff President, commented, "From new innovative capabilities like robotic surgery to new programs like hyperbaric oxygen therapy, our team of leading physicians has been able to achieve significant accomplishments in just a short period of time. This has made a tremendous impact on the quality of care that Mountainside has been able to offer. With their strong histories of collaborating with physicians and commitment to investment, LHP is an ideal manager and operator and HackensackUMC a national leader in quality and innovation. Together they will continue to help Mountainside bring the latest medical programs, technology, and care to our local community."
"We are honored to combine our strengths with those of the Mountainside physicians, board members, staff and community," said Robert C. Garrett, President and Chief Executive Officer of HackensackUMC. "Hackensack University Health Network is excited about our partnership with LHP and is looking forward to reinforcing our commitment to bringing quality healthcare and service excellence to New Jersey."
"The joint venture between LHP–HackensackUMC ensure that we will continue to build on Mountainside's legacy of excellent care for our community," said Franklyn Jenifer, Mountainside Hospital Board Chairman. "We look forward to working with LHP and HackensackUMC and forming a close relationship with Montclair and surrounding communities."
About LHP Hospital Group, Inc.
LHP Hospital Group, Inc. (LHP) is a privately held company established to provide essential capital and expertise to not-for-profit hospitals and hospital systems. In cooperation with local hospitals, LHP forms joint ventures to acquire, own, operate and manage acute care facilities in small cities and select urban markets throughout the United States. Headquartered in Plano, Texas, LHP is owned by affiliates of the private equity firm CCMP Capital Advisors, LLC and the CPP Investment Board as well as certain members of management and the board of directors. For more information, please go to http://www.lhphospitalgroup.com.
About Mountainside Hospital
At Mountainside Hospital, world-class physicians treat a wide range of medical conditions using state-of-the-art technology. Patients have immediate access to innovative and effective treatment alternatives at specialized centers within the hospital that focus on imaging, women's health, cancer care, surgery, obesity, stroke and chronic kidney disease. The 365-bed community hospital delivers personalized care while also serving as a learning center via its nursing school and residency programs in family medicine, internal medicine and dentistry. Mountainside Hospital is designated as a Primary Stroke Center by the NJ State Department of Health and Senior Services and is one of only a few community hospitals licensed by the State to perform emergency angioplasty. To learn more about Mountainside visit http://www.mountainsidehosp.com.
About Hackensack University Medical Center
Hackensack University Medical Center is a 775-bed not-for-profit, tertiary care, teaching and research hospital and provides the largest number of admissions in New Jersey. Founded in 1888 with 12 beds and as Bergen County's first hospital, Hackensack University Medical Center has demonstrated more than a century of growth and progress. Hackensack University Medical Center is a nationally recognized healthcare organization offering patients the most comprehensive services, state-of-the-art technologies, and facilities. Honors include being named one of America's 50 Best Hospitals by HealthGrades® for five years in a row. Hackensack University Medical Center is the only hospital in New Jersey, New York, and New England to receive this honor for five consecutive years. Hackensack University Medical Center was also named one of the 50 Best Hospitals in America by Becker's Hospital Review. U.S. News & World Report ranked Hackensack University Medical Center eighth in the New York Metro Area in its first-ever Best Hospitals metro area rankings, giving it the top ranking out of all the New Jersey hospitals listed. Additionally, Hackensack University Medical Center has been ranked in geriatrics, heart and heart surgery, and cancer in U.S. News & World Report's 2011-12 Best Hospitals. The U.S. News Media Group also named the Joseph M. Sanzari Children's Hospital to its "2011-12 Best Children's Hospitals" list – ranking as one of the top 50 in the specialty of neurology and neurosurgery – the first hospital in the State of New Jersey ever to be ranked in a Best Children's Hospitals specialty. Hackensack University Medical Center is a Magnet® recognized hospital for nursing excellence, first in New Jersey, second in the nation, receiving its fourth designation in April 2009. Hackensack University Medical Center is the hometown hospital of the New York Giants and the New Jersey Nets. Learn how one of the nation's top 50 hospitals can help you at http://www.HackensackUMC.org.
About Merit Health Systems
Merit Health Systems is a private hospital management company which acquires, owns and operates urban community hospitals. Based in Louisville, Kentucky, Merit was founded specifically to address the significant and growing needs of community hospitals in larger urban markets.
Contact:
Pat Ball
LHP Hospital Group, Inc.
972-567-8703
pat.ball(at)lhphospitalgroup(dot)com
Natalie Thigpen
Mountainside Hospital
973-429-6841
natalie.thigpen(at)mountainsidehosp(dot)com
Nancy Radwin
Hackensack University Medical Center
551-996-3765
NRadwin(at)hackensackumc(dot)org
###