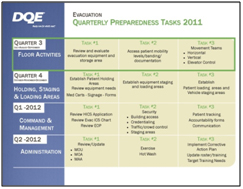 The 'What's Next Sustainment Program' provides ongoing support to hospital leadership for program management and an efficient and affordable means to provide ongoing training to hospital staff.
Fishers, IN (PRWEB) September 07, 2011
Once the training for hospital decontamination or hospital evacuation is over, sometimes it's difficult to determine the next steps to maintain your level of preparedness. That's why DQE has developed the 'What's Next Sustainment Program.' This program is a way to support emergency preparedness coordinators and their staff throughout the year.
The 'What's Next Sustainment Program' includes:
~Quarterly Preparedness Tasks - This tool provides a structured in-service training schedule for management and staff for developing key preparedness skill-sets. These Quarterly Preparedness Tasks will often involve diverse groups of personnel and various areas of the facility. The goal of this tool is to keep a hospital's staff and command team well trained and confident about its emergency operations plan and response actions.
~DQE-On-Demand® Subscriptions - This user-friendly, engaging learning platform is an excellent supplement to review training procedures. DQE-On-Demand can benefit hospitals by increasing interoperability across hospital networks with a standardized training platform, reducing costs of training and staff down time while increasing access to learning, and by achieving improved regulatory compliance with national preparedness standards.
~Regulatory Updates - Changes in regulations, accreditation requirements, and national standards are monitored regularly by DQE with planning updates made accordingly and provided to hospitals at no additional charge to ensure that plans remain current and in compliance. In addition, planning enhancements and support tools developed in response to lessons learned from other hospitals are also included.
~Leadership Turnover Support - Free webinar/in-service training on planning and response capabilities if hospitals have management turnover during the term of the agreement (up to two hours of consulting time).
~Client Priority Discount - This discount includes a 10% discount on Training & Consulting Services for the year and a 10% discount on DQE equipment purchases for the year.
The 'What's Next Sustainment Program' will be automatically included with specific DQE Hospital Decontamination and Hospital Evacuation courses and is available for purchase on a yearly basis once a hospital completes a decon or evacuation training program.
About DQE, Inc
Headquartered in Fishers, Indiana, DQE supplies healthcare facilities with the training, equipment, planning, and support to manage all-hazard events. Over 500 hospitals and 14,000 healthcare workers have come to trust DQE for consistent disaster preparedness. For additional information on DQE training and consulting services, visit http://www.dqeready.com.
###