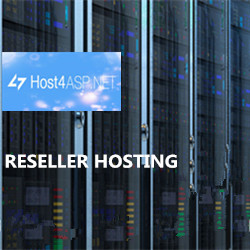 Host4ASP.NET launches 3 reseller hosting packages that are reliable and feature-rich, stating at $19.95/mo only.
Chicago, Illinois (PRWEB) July 08, 2015
Recognized as a Microsoft golden web hosting provider, Host4ASP.NET is dedicated to providing the best ASP.NET web hosting service for ASP.NET developers. This company released 3 shared hosting packages since its establishment. Recently, this web host launched 3 reseller hosting solutions, giving people everything necessary to start their own web hosting company.
Each Host4ASP.NET reseller hosting solution is integrated with the latest Microsoft technology and many other outstanding features, including unlimited email accounts, full trust level, free instant setup, and MSSQL 2012/2014. In addition, no matter which package people choose, they are allowed to create unlimited websites on a Host4ASP.NET reseller hosting account. In addition, even the basic reseller plan SILVER comes with 50 GB disk space and 500 GB data transfer.
What's more, Host4ASP.NET offers WebSitePanel for resellers to control every aspect of their hosting business with the least effort being made. Coming with rich features, sufficient server resources, and easy-to-use control panel, Host4ASP.NET reseller hosting service starts at $19.95/mo only. In addition, resellers are able to get 20% discount when they purchase domain names, domain privacy and SSL certificates.
Just like many other reseller web hosting providers, Host4ASP.NET accepts both credit cards and PayPal to ensure resellers can enjoy an easy and secure payment. Besides, this company also provides reseller hosting buyers with 30 days money back guarantee, ensuring they can ask for a refund within the first 30 days.
To ensure resellers' clients can run websites smoothly and stably, Host4ASP.NET equips its US data center with hundreds of the quality Dell servers with 32 GB+ RAM and RAID 5 with SSDs. Besides, BGP connections are also adopted to deliver faster hosting speed. Moreover, dozens of technicians are monitoring the data center, servers and network 24x7, aiming to resolve any sudden issue immediately to ensure hosted sites run rapidly without any sudden interruption.
To help resellers run business with the fewest problems, Host4ASP.NET technicians are standing by 24x7 to offer help via email and live chat. Therefore, no matter when resellers have any concern or technical issues, they are able to get instant answers and useful methods to deal with their problems efficiently.
To learn more about Host4ASP.NET reseller hosting service, visit https://host4asp.net/reseller-web-hosting/.