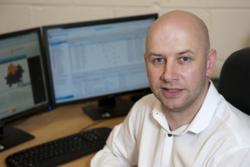 If there has been one product which has significantly made a difference to our business this is it.
Kingston upon Hull, UK (PRWEB UK) 31 May 2012
STAFF at a leading cloud computing company were celebrating today after its network of resellers hit the 1,000 mark.
Giacom ThinkCloud has the largest team of IT support firms selling Hosted Exchange under their own brands in the UK.
Giacom has pitched the cost of its Hosted Exchange business email and collaboration service, which comes under its highly successful MessageStream brand, at £2.95 per mailbox per month, which is thought to be among the lowest priced in the industry.
Nick Marshall, MD of Hull-based Giacom ThinkCloud, said: "When we first deployed our Hosted Exchange reseller platform in 2010, IT support companies were initially cautious about moving their clients into the cloud. But by using a platform like MessageStream, IT professionals have been instrumental in this relationship ‒ and also shared the profits.
"Now smart-thinking IT companies are using cloud computing to expand their existing client base. Because Hosted Exchange takes fewer resources to manage than on-site Exchange and can be done using a single online control panel, additional clients can be serviced, meaning greater market share and long term stability."
Exchange Hosting is the fastest growing sector of cloud computing and offers new opportunities for IT support companies who have traditionally installed on-site servers. The growing trend across the UK and beyond is for businesses to move their infrastructure into the cloud.
Latest research in the Edge Strategies SMB Cloud Adoption Study 2012 revealed that 87% of small to medium sized businesses preferred a trusted local service provider, suggesting local IT support companies had a huge role to play in getting businesses into the cloud.
On a wider scale, analysts have also predicted that the worldwide market for cloud computing will leap from $40.7 billion in 2011 to more than $241 billion in 2020.
Nick added: "Cloud computing is here to stay and is going to be everywhere in the next few years. Businesses are moving to the cloud in their droves.
"Hitting 1,000 resellers is testament to these new and exciting times, but also to the facilitation of the cloud at a local level. That said, small to medium sized businesses still have further to go than larger enterprise clients with just 36% using Microsoft Exchange-based services for their email, leaving plenty to go at in the coming years."
One contented MessageStream reseller is Scott Clark, from IT support company Virtual Networking Ltd, who said: "My company has been reselling with MessageStream for a number of years now and I have watched the company grow significantly during this time.
"We deployed Hosted Exchange to our clients last year as part of our managed services platform. If there has been one product which has significantly made a difference to our business this is it.
"Long gone are the days of earning small one-off fees for POP3 accounts and having all the hassle with spam, viruses and corrupt PST files. We now earn a significant sustainable monthly income from a very well presented product, which is increasing in numbers every month. The control panel for the product is simple but very functional unlike some competitors.
"Best of all is the support: you can ring any time of the day and instantly speak to someone who knows the product inside out and who can help you resolve it there and then, making you look fantastic to your clients."
Based in Hull, East Yorkshire, Giacom ThinkCloud has grown rapidly since setting up in 1999 when it offered web hosting services. It launched its email filtering and archiving service in 2005 before developing the cloud-based Hosted Exchange platform in 2010.
Resellers can buy Hosted Exchange from Giacom/MessageStream at £2.95 per 25GB mailbox per month. Resellers can white label and mark up the service to the needs of their clients. There are no long-term contracts, no tie-ins and no minimum numbers. For more information on MessageStream, visit http://www.giacom.com or http://www.messagestream.com, or call 0800 075 5577.