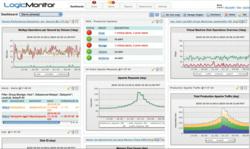 LogicMonitor frees up DevOps staff to focus on enhancing their own application instead of on maintaining a monitoring system.
Santa Barbara, CA (PRWEB) February 07, 2012
Hosted monitoring leader, LogicMonitor, today announced that it will be a Gold Sponsor at the upcoming DevOps Days conference in Austin, Texas. With its combined ease of use and ability to monitor the entire technology stack from a single pane of glass, the SaaS-based monitoring tool encourages collaboration while minimizing finger pointing across departments.
"We are excited to participate at DevOps Days, not only to demonstrate LogicMonitor's ability to provide valuable IT intelligence, but also to learn how we can further enhance our application to foster collaboration between developers and system administrators," said Steve Francis, LogicMonitor's Founder and Chief Product Officer.
LogicMonitor's extensive library of built-in monitoring templates for servers, switches, routers, firewalls, load balancers, databases, applications, and storage eliminates the time-consuming configuration and maintenance that other monitoring tools require, freeing DevOps staff to focus on enhancing their own application. The flexible architecture gives users the framework to easily customize everything from data collection to alert thresholds and notification methods.
Companies interested in gaining virtually instant visibility into their infrastructure can deploy a 14-day free trial of the full version of LogicMonitor at http://www.LogicMonitor.com.
About LogicMonitor:
LogicMonitor, Inc. is a leading provider of SaaS-based monitoring software for physical, virtual, and cloud-based IT environments. Headquartered in Santa Barbara, California, LogicMonitor was founded by a team of data center operations managers and technology experts dedicated to making monitoring simple. The company is a NetApp, VMware, Dell, HP, and Citrix technology partner. In addition to being recognized as one of the top network monitoring solutions by TechRepublic, LogicMonitor recently received the WebHost Magazine Editors' Choice Award for comprehensive network monitoring, and received the Best of SaaS Showplace (BoSS) Award for delivering outstanding business value with a Software-as-a-Service (SaaS) solution. For more info, visit http://www.logicmonitor.com or call (888) 41LOGIC.
# # #