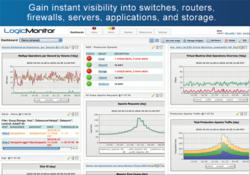 ...the monitoring data for the whole infrastructure is right there, in one screen...
Santa Barbara, CA (PRWEB) May 16, 2012
LogicMonitor, the leading SaaS-based IT infrastructure monitoring solution for physical, virtual, and cloud environments, today announced its sponsorship of the VMware User's Group (VMUG) event – at the Hyatt Regency La Jolla, in San Diego on May 22, 2012. The LogicMonitor team will be on hand to demonstrate its hosted monitoring solution, which is transforming the VMware monitoring playing field.
"Typically IT gets hit with things like, 'Why is my application running slow?' " says LogicMonitor Founder and Chief Product Officer, Steve Francis. "And they scramble around trying to figure it out with multiple monitoring tools and often multiple people. Is it the virtualization platform or the application itself? Or is it the network? Maybe the storage device? With LogicMonitor the monitoring data for the whole infrastructure is right there, in a single pane of glass, completely integrated and easily accessible to anyone in the organization." Which translates into issues getting solved quickly and efficiently, according to Francis.
Francis explains that while troubleshooting IT infrastructure problems is a major part of the value LogicMonitor delivers, and leads many VMware users (as well as MSPs, cloud companies and other web companies) to try its SaaS-based monitoring solution, it is the ability to proactively avoid issues and gain actionable, infrastructure-wide intelligence that enthuses LogicMonitor clients in the long run.
"Clients often come to LogicMonitor for a point solution, or to put out a fire," says Francis, "And after we quickly help to pinpoint their issue, they begin to discover LogicMonitor's breadth. Not only do they easily get top to bottom performance monitoring, but operational intelligence and also real-time business metrics. A real awakening occurs. In the case of VMware monitoring, it's a perfect fit."
The San Diego VMUG event presents a great opportunity for VMware users to see a firsthand demonstration of the power and value LogicMonitor delivers in monitoring VMware's vSphere, vCenter and ESX technologies.
Companies interested in VMware monitoring and gaining instant visibility into their entire IT infrastructure can take advantage of a 14-day free trial of the full version of LogicMonitor at http://www.LogicMonitor.com.
About LogicMonitor
LogicMonitor, Inc. is the leading SaaS-based IT infrastructure monitoring solution, giving instant visibility into the entire IT infrastructure stack – networks, servers, applications, storage, and cloud – in a single pane of glass. Headquartered in Santa Barbara, California, LogicMonitor was founded by a team of data center operations experts on a mission to make monitoring both powerful and simple. The company is a NetApp, VMware, Dell, HP, and Citrix technology partner. In addition to being recognized as one of the top network monitoring solutions by TechRepublic, LogicMonitor recently received the WebHost Magazine Editors' Choice Award for comprehensive network monitoring, and received the Best of SaaS Showplace (BoSS) Award for delivering outstanding business value. For more info, visit http://www.logicmonitor.com