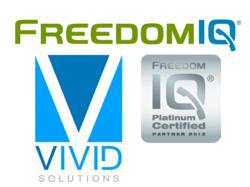 Our partnership with FreedomVoice has been priceless.
San Diego and Phoenix (PRWEB) February 20, 2013
FreedomVoice, one of the largest US providers of cloud-based VoIP phone systems, today announced that Vivid Solutions of Scottsdale, Ariz., was awarded Platinum level status. This is a prestigious award that only a few companies attain by being the highest achievers in the business VoIP phone system market as well as voice continuity and disaster recovery. FreedomVoice serves 28,000 businesses nationwide and produces the FreedomIQ cloud business solutions developed in-house which allows for flexibility, easy integration with third party tools, and cost savings for their customers. FreedomVoice also offers business continuity and disaster recovery services for voice that are leading the way in the industry.
Vivid Solutions provides top notch business-to-business services. They are located in the heart of the Scottsdale Airpark serving Scottsdale, Phoenix, Chandler, Gilbert, Mesa, Tempe, Paradise Valley, and the surrounding Phoenix area with reliable cloud phone business telephone systems, commercial audio/video, fiber optics and cabling. They provide exceptional customer service. Vivid Solutions also offers business continuity for voice in the event of disasters, hardware failure or blackouts. They have been a FreedomVoice certified partner since 2009.
"Vivid Solutions has a strong and rapidly growing base of satisfied customers," said Eric Thomas CEO and Founder of FreedomVoice. "FreedomVoice looks for excellence in the partners we choose to represent FreedomIQ Cloud Phone System and Vivid Solutions is leading the way."
"Our partnership with FreedomVoice has been priceless. Not only are we more than happy to have the ability to provide our current customers with an exceptional product, but with FreedomVoice's lead generation program, we are given one more tool to present VoIP and introduce businesses to the other services Vivid Solutions provides."-Cortney Weeks, COO
About FreedomVoice
FreedomVoice was founded in 1996 and today serves nearly 30,000 customers nationwide. It got its start providing virtual phone systems to small businesses and Fortune 500 companies alike. This service remains a key offering from FreedomVoice, including business-enhancing features such as 800 numbers, an auto attendant, call forwarding, and voicemail-to-text. FreedomVoice launched the FreedomIQ hosted VoIP phone system service in 2006 in response to overwhelming business demand for hosted VoIP phone service and has been leading the way ever since. All of FreedomVoice's platform technology has been developed in-house to provide a unique, customizable, and flexible solution that works with any company's workflow. Based in Encinitas, Calif., FreedomVoice is privately-held and remains profitable through strategic partnerships and the agility to develop new technologies ahead of the curve.
For more information, please visit the company's websites at http://www.FreedomVoice.com and http://www.FreedomIQ.com.
"FreedomVoice" and "FreedomIQ" are registered trademarks of FreedomVoice Systems.
About Vivid Solutions
Vivid Solutions was founded in 2007 based on one simple vision, to provide our customers with reliable products and services. Today, the core of Vivid Solutions is comprised of three offerings; Commercial Telephony, Commercial Audio/Video, and Fiber Optics and Cabling. For further information, please visit http://www.VividAZ.com.