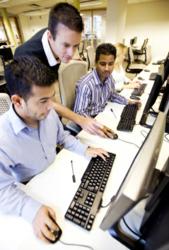 We understand that some of the strongest relationships are with the IT support company and their clients
Kingston upon Hull (PRWEB UK) 27 August 2012
Hosted Exchange specialist company Giacom has expanded its reseller network to more than 1,200, and puts much of its success down to the flexible payment terms offered to its reseller network.
Instead of making payments for services as they're enabled, Giacom allows its resellers to add any number of Hosted Exchange mailboxes but only charges for them at the end of each month. The company also provides additional flexibility to resellers so they can add and delete any number of mailboxes without any contract tie-ins.
Giacom operates the reseller network through its MessageStream brand, and is seen as the UK's largest for Hosted Exchange, and also the most cost-effective way of buying Hosted Exchange at a wholesale level. Exchange mailboxes, with full collaboration and sharing services, and 25GB online storage, are priced at £2.95 per month, which the reseller can mark-up to their chosen retail price and build in a long-term profit margin. Resellers can private-label the service by adding their own branding, and pre-branded marketing material is also available.
"We understand that some of the strongest relationships are with the IT support company and their clients," explains Giacom Managing Director Nick Marshall. "We provide the tools for these IT support companies to deliver Hosted Exchange, under their own brand, as businesses move to cloud-based services. By providing our resellers with the kind of payment terms they afford to their own clients, we're hopefully more in-step with their businesses."
Hosted Exchange is one of the most popular ways to operate business-based email. It provides not only instant push-style messaging to both the desktop and mobile devices, but also provides shared contacts and calendars throughout the business.
Traditionally IT support companies have installed Microsoft's Exchange or Small Business Server on-site for their clients, but as expensive upgrades are required, and more and more businesses are seeing the cost savings of moving to the cloud, IT support companies can now play a part in moving from on-site Exchange to Hosted Exchange, whilst locking-in long term profits by still playing an important role in the relationship.
The 1,200 IT support companies using Giacom's MessageStream service have access to an online portal enabling them to create Exchange mailboxes, domains and email aliases instantly. Each mailbox is protected by the award-winning MessageStream email security layer, ensuring spam and viruses do not arrive at the inboxes.
Within any given month, Exchange mailboxes can be added and deleted without any payment required. Invoices are issued at the end of each month based on active services.
MessageStream is a cloud-based platform for IT support companies, including Hosted Exchange, Hosted SharePoint and Hosted Email Security.
For more information on reselling Hosted Exchange, visit Giacom at http://www.giacom.com or the MessageStream website at http://www.messagestream.com.