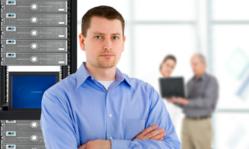 The sooner that IT companies get cloud subscription revenue into their business the better they are placed for the future
Kingston upon Hull (PRWEB UK) 21 September 2012
IT support companies that don't embrace cloud computing and include it in their portfolio of products and services are putting their businesses at risk, according to a client study done by Giacom, market leader in providing Hosted Exchange via the cloud.
Giacom has the largest Hosted Exchange reseller network in the UK of more than 1,200 IT support companies, and provides a white label platform to allow IT professionals to deliver Microsoft's popular Exchange email server and SharePoint storage and collaboration server under their own brand. The service is operated by Giacom under its MessageStream brand.
The study identified that those support companies that fail to engage with their clients and offer cloud computing will fare worse than those that do. "Failure to embrace cloud-based services will lead to IT support companies being left behind," asserts Simon Street, Engineering Manager at SRS Support in Bridgend. "Servers are expensive to buy, costly to support, difficult to backup and are generally cumbersome for the client and support provider. Smart businesses and smart IT support companies are switching to cloud solutions at a rate that has to be embraced."
Indeed many who took part in the study believe the practice of installing infrastructure on-site for small to medium sized businesses could become obsolete in just a few years. Steve Carr from IT support company Your IT Director in St. Helens, Merseyside says, "The day to day running cost and manageability have to be big factors for clients. Not having to worry about ageing kit and people remembering to change the backups consistently is reason enough. Customers like being able to work from anywhere and, most importantly, like the low investment costs over traditional offerings."
Peter Stevens of System Assure, based in Bishops Waltham, Hampshire, who's also a reseller of the MessageStream service adds, "IT support companies need to embrace Cloud technologies. It gives a different revenue mix into the business which helps to improve the ongoing value of a company. The requirement for on-site only IT is going to dwindle, so the sooner that IT companies get cloud subscription revenue into their business the better they are placed for the future.
IT support companies that join Giacom's MessageStream service get access to Hosted Exchange at £2.95 per mailbox per month, allowing them to deliver the service as their own price direct to their client base. By adding a margin, resellers can build month-on-month income to supplement more traditional revenue streams. There are no membership fees, no tie-ins, and no targets for IT support companies using the MessageStream service.
Hosted Exchange is one of the fastest growing sectors of cloud computing, and provides the end-user with a Microsoft-based email service that allows desktop and mobile synced working, and collaboration with colleagues through shared calendars, tasks and contacts.
In the past, small to medium sized businesses have often relied upon on-site Small Business Server or Exchange Server to achieve this kind of business-grade email, however the costs associated with the installation and maintenance of such a service usually outweigh those associated Hosted Exchange which is served from the Internet instead. The savings when switching to Hosted Exchange can be in excess 90% and allow for greater flexibility and scalability depending on demand within the business.
For more information on Hosted Exchange from Giacom, visit http://www.giacom.com or call 0800 542 7500. For information on becoming part of the MessageStream reseller network, visit http://www.messagestream.com or call 0800 075 5577.