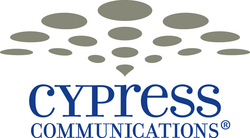 Cypress Communications is a strong technology partner that delivers the functionality we need with the end-to-end communications management that allows us to focus on our core business of making and selling cases
Atlanta (Vocus) June 26, 2009
Calzone Case Company, a leading manufacturer of music cases and heavy-duty shipping containers, selected Cypress Communications® C4 IP™ hosted VoIP and hosted unified communications solution for its technological advantages, cost benefits and end-to-end hosted delivery model.
"Cypress Communications is a strong technology partner that delivers the functionality we need with the end-to-end communications management that allows us to focus on our core business of making and selling cases," said Joe Calzone, president and founder of the Calzone Case Company. "With Cypress, we were able to implement unified communications, centralize our communications for multiple locations and eliminate redundancies across our organization--all for less cost than a premises-based solution. And since we don't own or manage the technology, we'll profit from the advancements and improvements Cypress makes without having to expend additional capital."
Calzone has also benefited from C4 IP's robust conferencing capabilities. Employees can now easily conduct multi-person calls on demand, which used to be challenging for the company. And the unified messaging and call routing features have enabled their road-warrior sales managers to address customer needs faster than before. Unified messaging enables voicemails to be instantaneously delivered via email, so users can access and forward voicemails just like any email--at any time. With the advanced routing feature, calls can be transparently transferred to multiple devices, and routes can be customized based on caller and time of day.
With three facilities located across Bridgeport, CT, Dallas, TX, and City of Industry, CA, the company also uses the call routing feature to extend customer service hours; offices pick up calls for each other during non-working hours in each time zone. For instance, calls can be routed to Calzone's headquarters on the east coast in the morning, while the west coast facility, Anvil Cases, can continue accepting calls well into the evening.
"As a hosted communications solution, the technology intelligence for C4 IP is in the Cypress cloud, which facilitates a seamless customer experience across all of the Calzone Cases locations. C4 IP's inherent mobility and redundancy features help the company maintain communications efficiency while also protecting it with robust business continuity. And while Calzone Cases continues to rock the music industry--among others--with their trademarked cases, Cypress will be behind the scenes, supporting Calzone Cases as they protect the equipment for iconic legends such as Aerosmith, KISS and Gibson guitars," said Frank Grillo, executive vice president of marketing for Cypress Communications.
With C4 IP, all of Calzone's offices are hosted on a cohesive platform, creating a seamless connection between locations. Voice and data services are delivered through a carrier-class switch and one of the nation's most robust private IP networks, enabling users to easily share information and transparently transfer customer calls between locations. Powerful collaboration tools connect employees across the country with audio and Web conferencing, desktop video, instant messaging, find-me/follow-me, file and application sharing as well as real-time presence status of co-workers.
Since C4 IP includes a soft client option, users can stay connected from anywhere that has an Internet connection. No matter where the person is located, the soft client makes it look and feel as if the person is working in his or her office. "I was sitting in my hotel room in Germany when my laptop rang. My receptionist in California had forwarded a call from Connecticut, and I made a big sale from halfway around the world. Even when I traveled to China, the C4 IP solution worked flawlessly," Joe commented. "With C4 IP, I can leverage IP capabilities to remain in constant contact with my staff and customers no matter where I travel."
Calzone also benefits from award-winning disaster recovery capabilities. Cypress engineered a customized dual failover solution for the company that ensures continuous communications. This protection is in addition to the already robust business continuity guaranteed by Cypress' network, with its redundant and geographically diverse components and 24/7 proactive monitoring.
About Calzone Cases
The Calzone Case Co. has been manufacturing cases since the mid 1970's. With roots in the Rock & Roll business, the company has branched out into virtually all markets, servicing the entertainment, military, professional sports, medical, aerospace and many others. In 1990, Calzone solidified its West Coast presence, and in a bold move six years later, the company purchased the industry leader, Anvil Cases. The combined strength of the Calzone Case Co. and Anvil Cases has enabled the company to leverage economies of scale and create a significant competitive edge. Three strategically located operations, each offering sales, manufacturing and service centers, position Anvil and Calzone as the only case companies in the United States with a national presence. Calzone engineered the industry standard with the ATA case, and recently announced their new XLT15 lightweight material, which is more rugged and lighter than wood and provides unmatched protection. The companies considered the XLT15 material a breakthrough and customers agreed; over 25,000 cases are in use worldwide. For more information about The Calzone Case Co., visit http://www.calzonecase.com.
About Cypress Communications
For over 20 years, Cypress Communications has been helping small-to-medium enterprises (SMEs) connect, communicate, collaborate and continue™ with a range of fully hosted and managed voice, data and Internet solutions. Beginning in 2006, Cypress revolutionized the communications industry with its hosted VoIP and hosted unified communications solution, C4 IP, making it easy for SMEs to take advantage of productivity-enhancing technology such as integrated audio and Web conferencing, multimedia collaboration tools, presence, chat, Microsoft® Outlook integration, and more. As a Deloitte Fast 50 and Fast 500 award recipient, Cypress is recognized as one of the fastest growing telecommunication companies in North America. In 2008, the company was also named one of Atlanta's Best Places to Work. Cypress' hosted unified communications solution has received numerous awards and accolades, with 14 awards for excellence and innovation to date. The company's Web address is http://www.cypresscom.net.
To learn more about hosted unified communications, visit the company's UC 360 blog at http://blog.tmcnet.com/uc-360.
© 2006-2009 Cypress Communications, Inc. The Cypress Communications logo is a registered service mark of Cypress Communications, Inc. C4 IP is a trademark of Cypress Communications. Connect, communicate, collaborate and continue is a trademark of Cypress Communications. All other marks used herein are the property of their respective owners.
# # #