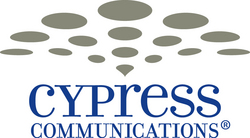 We have definitely saved money with C4 IP.
Atlanta (Vocus) March 3, 2010
Cypress Communications® hosted unified communications solution, C4 IP®, has taken the market by storm, and Advantage Management Solutions (AdvantageMS) knows why. As a Cypress customer since 2007, AdvantageMS has experienced the benefits of C4 IP first hand—from productivity increases due to the advanced communications features and support for remote workers to the solution's cost-saving hosted delivery model.
"We have definitely saved money with C4 IP," said Jonathan Johnston, senior IT manager at AdvantageMS.
"If we hire another employee or need to replace a phone, we don't have to purchase any phone equipment. We just call Cypress to get a new phone, and the turnaround time is great. Also, we can tie multiple numbers into a single phone, which is especially helpful for employees who are responsible for answering the main line or help desk line as well as their own."
AdvantageMS, a pharmaceutical consulting company, provides solutions that aid in master data management, compliance support and territorial alignment. Working closely with their clients to navigate the sometimes-tumultuous waters of the healthcare industry, AdvantageMS places great importance on communications.
In the office, AdvantageMS employees particularly like the on-demand conferencing capabilities. "We typically have 3-4 small meetings going on at a time, so it has been very beneficial for individuals to set up conferences using their own bridge. That way, we can hold simultaneous conference calls, whereas before, we could only hold a single conference call at a time."
For traveling employees, there's the C4 IP soft client, which enables users to make and receive calls from anywhere that has an Internet connection. Also, the find-me/follow-me call routing functionality makes it easy for users to define complex call routes such as ringing multiple devices sequentially or simultaneously and creating routes based on caller or time of day.
With C4 IP, AdvantageMS' remote employees can leverage the same communications functionality used by their colleagues at the office. "Our remote users are fully connected, so we can just dial a 4-digit extension and communicate with them, no matter where they are located. This is a huge benefit to us, as we can talk to them directly without having to expense cell phone costs."
Frank Grillo, executive vice president of marketing and customer support at Cypress Communications, added, "AdvantageMS is a perfect example of how far reaching the benefits of C4 IP can be. For companies that rely on communications as a vehicle for sales and success, a hosted unified communications solution can both transform and enhance the way employees and customers communicate."
As AdvantageMS' communications provider, Cypress has even seen the company through an office relocation, all while keeping their employees connected and communicating. C4 IP comes complete with voice and data access, IP phones, soft clients, and an array of advanced communications features such as presence, chat, unified messaging and audio and web conferencing. Because C4 IP is fully hosted, users can benefit from the solution with no capital expense and no need to hire additional IT staff to install or maintain the solution. Cypress manages C4 IP from its nationwide IP network cloud to the phones on each user's desk.
About Advantage Management Solutions
Advantage Management Solutions is an outsourcing partner and consultancy to the health care industry, with a specialization in Healthcare Master Data Management, Territory Mapping, information technologies, and strategic consulting. Key personnel are tenured professionals with extensive healthcare industry experience, focused on strategic and operational business issues in the functional areas of sales and marketing, information technology and compliance.
To learn more about Advantage Management Solutions, visit our website at http://www.advantagems.com or call 215-750-5503
About Cypress Communications
For over 25 years, Cypress Communications has been helping small-to-medium enterprises (SMEs) connect, communicate, collaborate and continue® with a range of fully hosted and managed voice, data and Internet solutions. Beginning in 2006, Cypress revolutionized the communications industry with its hosted VoIP and hosted unified communications solution, C4 IP, making it easy for SMEs to take advantage of productivity-enhancing technology such as integrated audio and web conferencing, multimedia collaboration tools, presence, chat, Microsoft® Outlook integration, and more. As a Deloitte Fast 50 and Fast 500 award recipient, Cypress is recognized as one of the fastest growing telecommunication companies in North America. In 2008, the company was also named one of Atlanta's Best Places to Work. Cypress has won a total of 24 awards for excellence and product innovation to date. The company's web address is http://www.cypresscom.net.
To learn more about hosted unified communications, visit the company's UC 360 blog at http://blog.tmcnet.com/uc-360.
For more information, contact:
Heather Whitt Roberts
Cypress Communications
404-442-0034
John Ryan
Advantage Management Solutions
484-995-4727
© 2006-2010 Cypress Communications, Inc. The Cypress Communications logo is a registered service mark of Cypress Communications, Inc. C4 IP and Connect. Communicate. Collaborate and Continue are registered trademarks of Cypress Communications. All other marks used herein are the property of their respective owners.
###