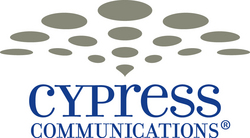 Even with C4 IP's resounding success, we don't rest on our laurels.
Atlanta (Vocus) May 27, 2010
Cypress Communications® is proud to announce that its hosted VoIP and hosted unified communications solution, C4 IP®, has been recognized again with the 2009 Unified Communications magazine Product of the Year Award. Presented by the Technology Marketing Corporation (TMC®), the award distinguishes companies that brought ground-breaking advancements to unified communications technology in the past year.
"It is an honor to grant Cypress Communications with a 2009 Product of the Year Award for their C4 IP solution. Cypress has proven their dedication to quality and excellence while supporting the needs in the marketplace," stated Rich Tehrani, CEO, TMC. "We look forward to seeing continued advancement in technology solutions from Cypress in the future."
Since its launch, C4 IP has taken the market by storm, being lauded by industry analysts, publications and users alike. With 26 awards for innovation, mentions in nearly two-dozen analyst reports and tens of thousands of satisfied users across the nation, Cypress has solidified its leadership position in the hosted unified communications industry. In fact, this is the third time C4 IP has been named a Product of the Year by Unified Communications magazine, signaling Cypress' continued commitment to excellence and innovation.
"Even with C4 IP's resounding success, we don't rest on our laurels; we continue to integrate new functionality into the solution, enabling our customers to benefit from the latest capabilities and services that unified communications technology has to offer," said Frank Grillo, executive vice president of marketing and customer support at Cypress Communications. "Delivering C4 IP through the cloud enables faster implementation of new advancements, and we are proud to be the hosted unified communications provider of choice for tens of thousands of users across the nation."
C4 IP includes integrated voice and data services, PBX features, SIP phones, soft clients, unified messaging, find-me/follow-me call routing and Microsoft® Outlook integration, with integrated IM/chat, presence, web conferencing, video calling and file sharing. As a hosted solution, C4 IP enables small-to-medium enterprises (SMEs) to increase performance while saving significant budget dollars by enabling them to avoid upfront capital outlays and ongoing expenses.
Cypress manages the C4 IP solution from its private IP network cloud through the customer LAN and to the phone on each desk, enabling the highest quality of service (QoS) and user experience. Recent additions to C4 IP include advanced ACD functionality, remote office solutions, failover capabilities, MPLS-VPN private data networking and more.
About Unified Communications magazine
Launched in July 2007, Unified Communications magazine is devoted to educating enterprise decision makers on why and how they need to deploy unified communications (UC) solutions. Every issue of Unified Communications magazine features a comprehensive news section; case studies of successful deployments and lessons learned; interviews with leading hardware and software companies; and an 'industry' section, featuring analysis of important mergers and acquisition, partnerships and a Wall Street perspective on the unified communications market. Unified Communications has a readership of 100,000. For more information, please visit http://www.uc-mag.com.
About TMC
Technology Marketing Corporation (TMC) is a global, integrated media company helping our clients build communities in print, in person and online. TMC publishes Customer Interaction Solutions, INTERNET TELEPHONY, Unified Communications, and NGN magazines. TMCnet, TMC's Web site, is the leading source of news and articles for the communications and technology industries. TMCnet is read by two million unique visitors each month on average worldwide, according to Webtrends. TMCnet has ranked within the top 3,500 in Quantcast's Top U.S. sites, placing TMCnet in the nation's top .03% most visited Web sites. In addition, TMC produces INTERNET TELEPHONY Conference & EXPO (ITEXPO); 4GWE Conference and M2M Evolution (in conjunction with Crossfire Media); Digium|Asterisk World (in conjunction with Digium); and Smart Grid Summit (in conjunction with Intelligent Communication Partners). TMC also serves technology professionals with industry-specific Web sites: IT.TMCnet.com, 4G-wirelessevolution.TMCnet.com, M2M Evolution.com, Smart-Grid.TMCnet.com, Smart Products Ecosystem, Robotics.TMCnet.com, Cable.TMCnet.com, Satellite.TMCnet.com, Green.TMCnet.com, Healthcare.TMCnet.com, and Education.TMCnet.com. For more information about TMC, visit http://www.tmcnet.com.
About Cypress Communications
For over 25 years, Cypress Communications has been helping small-to-medium enterprises (SMEs) connect, communicate, collaborate and continue® with a range of fully hosted and managed voice, data and Internet solutions. Beginning in 2006, Cypress revolutionized the communications industry with its hosted VoIP and hosted unified communications solution, C4 IP, making it easy for SMEs to take advantage of productivity-enhancing technology such as integrated audio and web conferencing, multimedia collaboration tools, presence, chat, Microsoft® Outlook integration, and more. As a Deloitte Fast 50 and Fast 500 award recipient, Cypress is recognized as one of the fastest growing telecommunication companies in North America. In 2008, the company was also named one of Atlanta's Best Places to Work. Cypress has won a total of 26 awards for excellence and product innovation to date. The company's web address is http://www.cypresscom.net.
For more information, contact:
Heather Whitt Roberts
Cypress Communications
404-442-0034
Jan Pierret
TMC
203-852-6800, ext. 228
© 2006-2010 Cypress Communications, Inc. The Cypress Communications logo is a registered service mark of Cypress Communications, Inc. C4 IP and Connect. Communicate. Collaborate and Continue are registered trademarks of Cypress Communications. All other marks used herein are the property of their respective owners.
###