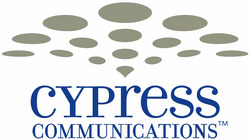 We considered buying and maintaining the phone system we had been using at the larger firm, but the total cost of ownership was way too high. Just the annual maintenance was cost prohibitive at $48,000 a year
Atlanta (Vocus) June 10, 2008
Panitch Schwarze Belisario & Nadel LLP, an international intellectual property law firm, announced today that they have implemented the award-winning C4 IP hosted VoIP and unified communications solution from Cypress Communications. Panitch Schwarze Belisario & Nadel chose C4 IP for its unified messaging capabilities and the inherent cost savings of a hosted delivery model.
Panitch Schwarze Belisario & Nadel operated as a part of a larger law firm in Philadelphia but became a separate entity that focused exclusively on intellectual property law at the beginning of 2008. "We considered buying and maintaining the phone system we had been using at the larger firm, but the total cost of ownership was way too high. Just the annual maintenance was cost prohibitive at $48,000 a year," said Timothy Back, IT manager at Panitch Schwarze Belisario & Nadel. "Plus we needed unified messaging, and our premises-based system just couldn't deliver this functionality."
With the decision to ditch their former phone system solidified, Panitch Schwarze Belisario & Nadel faced a major time crunch; they needed a provider who could deliver all of their feature requirements — and deliver them fast. "We only had about 60 days to make our communications decision, get the new system installed and our users trained; that's just not a lot of time to play with," Back continued. "Cypress Communications was the only provider that could deliver a complete solution with the functionality we required and implement it according to our tight schedule and all without costing us a fortune in capital expense."
Cypress Communications provided Panitch Schwarze Belisario & Nadel with C4 IP, an enterprise-class hosted VoIP and unified communications solution that features integrated voice and data access, desktop phones, soft phones, unified messaging and cutting-edge multimedia applications such as Microsoft® Outlook integration, collaboration, real-time presence, chat, as well as audio, video and Web conferencing. And since C4 IP is a fully hosted VoIP solution, there's no capital investment, no ongoing maintenance fees, and no need to hire and train additional IT staff to manage the infrastructure — saving firms substantial costs in time, money and personnel resources.
"Cypress has been delivering enterprise communications for over 20 years, managing everything from the phone on the desk all the way through our private network," said Frank Grillo, executive vice president of marketing at Cypress Communications. "When we began working with Panitch Schwarze Belisario & Nadel and assessing their needs, we knew that our experience and expertise combined with the features and functionality of C4 IP matched perfectly with their needs."
About PSB&N LLP
An international intellectual property firm based in Philadelphia, PA, Panitch Schwarze Belisario & Nadel LLP provides litigation, licensing, and counseling services related to patents, trademarks, copyrights, and trade secrets. With an experienced and highly talented team of intellectual property professionals, the firm has successfully represented a variety of clientele, ranging from individual inventors to Fortune 500 companies. PSB&N has long-standing relationships with a network of foreign associates in countries around the world, allowing it to provide clients with comprehensive global protection of their intellectual property assets. With an emphasis on working collaboratively and with exemplary credentials in many areas of scientific endeavor, this team of patent and trademark practitioners can provide the best possible legal strategy for each client. Such excellence has been widely recognized by peers and clients alike within the intellectual property field. Many of the firm's attorneys have written and lectured extensively, with articles featured in journals such as The National Law Journal, Science and Nature, and BusinessWeek. Further, the four named partners have been featured in Chambers USA, and are all included on this year's Pennsylvania Super Lawyers list. With such experience and technical expertise, PSB&N is able to address each client need with the responsiveness and personal attention characteristic of a sophisticated boutique firm. For further information, please visit the firm's website at: http://www.panitchlaw.com .
About Cypress Communications
Boasting a 20-year legacy and more than 6,500 customers coast-to-coast, Cypress provides Communications as a Service (CaaS) to small- and mid-sized enterprises. CaaS goes beyond traditional hosted VoIP offerings by delivering a fully managed unified communications solution. Comprehensive and flexible, the CaaS solution from Cypress includes integrated voice and data access, desktop phones, soft phones, local and long-distance voice services, voicemail, advanced collaboration tools and remote office functionality. From their computers, users can take advantage of productivity-enhancing applications such as real-time presence, desktop video, unified messaging, chat, file sharing, and Outlook integration. As a Deloitte Fast 50 and Fast 500 award recipient, Cypress Communications is also recognized as one of the fastest growing telecommunication companies in North America. Cypress is headquartered in Atlanta. The company's Web address is http://www.cypresscom.net .
© 2006-2008 Cypress Communications, Inc. The Cypress Communications logo is a service mark of Cypress Communications, Inc. C4 IP is a trademark of Cypress Communications. All other marks used herein are the property of their respective owners.
###