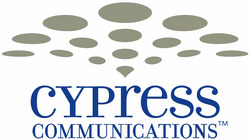 We looked at a number of other communications providers, but they all required purchasing phones and equipment. With our expected growth, that would have meant spending substantial capital dollars on technology that we wouldn't even get to use yet
Atlanta, GA (Vocus) December 18, 2008
MALO CLINIC, a prestigious international healthcare and wellness center, will implement the C4 IP™ hosted VoIP and hosted unified communications solution from Cypress Communications®. With MALO CLINIC's expectation to double its staff in the coming years, flexibility and scalability were key factors in their selection of C4 IP.
"Cypress helped us avoid making an unnecessary capital purchase. With C4 IP, we get exactly what we need now--a robust voice solution delivered through a private network with the latest unified communications features like presence, secure instant messaging and collaboration--and we have the ability to add additional phones and services as our company expands," said Kat Park, clinic administrator.
"We looked at a number of other communications providers, but they all required purchasing phones and equipment. With our expected growth, that would have meant spending substantial capital dollars on technology that we wouldn't even get to use yet," Park continued.
C4 IP is an enterprise-class hosted VoIP and unified communications solution that features integrated voice and data access, desktop phones, soft phones, unified messaging and cutting-edge multimedia applications such as Microsoft® Outlook integration , collaboration, mobility features, real-time presence, chat, as well as audio, video and Web conferencing.
Because of its hosted delivery model, C4 IP helps companies circumvent many of the obstacles they face when upgrading their communications: there's no capital investment, no ongoing maintenance and upgrade fees, and no need to hire and train additional IT staff to manage the infrastructure--saving companies in time, money and personnel resources.
"With C4 IP, there's no one-size-fits-all approach," said Frank Grillo, executive vice president of marketing at Cypress Communications. "Each company's needs are unique, and as a hosted solution, C4 IP provides companies with the level of customization, flexibility and scalability they need to take advantage of the latest communications features in the most economical way possible."
Headquartered in Lisbon, Portugal, MALO CLINIC revolutionized oral care with its breakthrough oral implantology method and now provides comprehensive healthcare and wellness services to clients worldwide. As MALO CLINIC brings its innovative healthcare to the United States, Cypress Communications will be there with its C4 IP solution helping MALO CLINIC's employees and patients connect, communicate, collaborate and continue™.
About MALO CLINIC
MALO CLINIC was established in 1995 by Dr. Paulo Malo and has become the world's leading centre for Implantology and Fixed Oral Rehabilitation. It is also the largest educational centre for the dental professionals.
Since its foundation, it has portrayed an exponential growth and development, supported by the continuous innovation produced in the field of Dentistry.
What started 13 years ago as a dental clinic in the heart of Lisbon is presently a worldwide reference in Implantology and Oral Rehabilitation as well as an international dimension Health Group, specialized in full health check-up and wellbeing.
Recently, understanding the patient' needs in other medical areas and with a prestigious name recognized worldwide, MALO CLINIC decided to expand services to other specialties. MALO CLINIC Lisbon is now being adapted to start with this new global medical concept, which will be exported to all the other MALO CLINIC around the world: Assisted Fertilization; Cosmetic Vascular Surgery; Dermatology; Dermocosmetics; Esthetics; Full health check-up; Gastroenterology; Gynecology/Obstetrics; Obesity Treatment; Ophthalmology; Otolaryngology; Nutrition; Pediatrics; Podiatry; Physical Therapy; Psychology; Plastic Surgery; Radiology; Smoking Cessation; Urology.
About Cypress Communications
Boasting a 20-year legacy and 6,500+ customers coast-to-coast, Cypress Communications delivers voice, data and Internet solutions to small- and mid-sized enterprises, including a fully hosted VoIP and unified communications solution. Users benefit from integrated voice and data access, desktop phones, soft phones, local and long distance service, voicemail, collaboration tools and remote office functionality. From their computers, users can take advantage of productivity-enhancing applications like real-time presence, desktop video, unified messaging, chat, file sharing, and Outlook® integration. As a Deloitte Fast 50 and Fast 500 award recipient, Cypress Communications is recognized as one of the fastest growing telecommunication companies in North America. The company has also been recognized as one of Atlanta's Best Places to Work and presented with the Technology Association of Georgia's Excalibur Award, TMC Labs Innovation Award, VON Magazine Innovator Award, Unified Communications Product of the Year, Communications Solutions Product of the Year, Product Innovation Award for Business Continuity and the Internet Telephony Excellence Award. The company's Web address is http://www.cypresscom.net.
© 2006-2008 Cypress Communications, Inc. The Cypress Communications logo is a registered service mark of Cypress Communications, Inc. C4 IP is a trademark of Cypress Communications. Connect, communicate, collaborate and continue is a trademark of Cypress Communications. All other marks used herein are the property of their respective owners.
For more information, contact:
Heather Whitt
Cypress Communications
404-442-0034
# # #